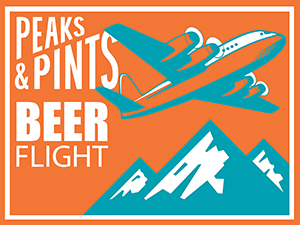 Today is National Caramel Day! Let's get to learning. … Americans began making sugary syrups in the 1600s, but the delicious chewy caramel we know and love today was a more recent innovation. Caramel candy emerged during the 18th century and quickly became one of the most popular sweets on the market. In fact, Milton Hershey's first business was the Lancaster Caramel Company. Caramel is made with butter, brown and white sugar, milk or cream, and vanilla. It is usually enjoyed as an ice cream topping, a candy filling, or as a flavor in craft beer, at least according to Peaks & Pints. We have at least five beers in the cooler with caramel notes, which is enough to make a to-go flight of bottles and cans that we call Peaks and Pints Pilot Program: National Caramel Day On The Fly.
Peaks and Pints Pilot Program: National Caramel Day On The Fly
Skookum Descent
5.3% ABV
Skookum Brewery's dunkel-like Descent dark lager is brewed with English and German malts and hopped with Cascade plus a touch of Saaz. It's full-bodied with rich maltiness, caramel sweetness, and faint hint of coffee.
Fast Fashion Is Fast Fashion Old News?
5% ABV
Fast Fashion's Is Fast Fashion Old News? is an Irish Stout, also known as the dry stout. The style is very much the archetype of dark beers, if not the national drink of Ireland. The Irish stout offers a vivid, even silky black color with a creamy brown head. The dry stout gains much of its bitter character from roasted barley. Fast Fashion's version is hopped with First Gold with an emphasis on the chocolate and caramel flavor of malts, and a distinct dry-roasted bitterness in the finish.
Stoup Feel My Muscles Imperial Porter
8.5% ABV, 40 IBU
"It's so impressively robust, you can almost hear it say 'c'mon, feel my muscles,'" says Stoup Brewery Feel My Muscles hype. "Generally, that would be annoying, but in this case, just do it. We think you'll be impressed. This big, bold, muscular porter is built on a base of Maris Otter, Munich, 2-row, chocolate, and crystal malts. Expect a rich and malt-forward porter with caramel and chocolate.
Silver City Copper MTN Maibock
7.2% ABV
Silver City Brewery's Copper MTN Maibock is a traditional German-style lager celebrating the end of the harsh Alpine winter and the reemergence of the beer garden. Copper Mountain is a formidable, but approachable lager with a rich caramel sensibility encapsulated by a refreshing, easy-going texture.
Huyghe Delirium Black Barrel Aged
11.5% ABV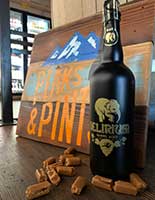 Brewery Huyghe's Delirium Black Barrel Aged is a blend of Delirium Nocturnum and Delirium Christmas. The Belgian strong dark ale matures in oak bourbon barrels for 9 months for caramel, bourbon, vanilla, a hint of almond flavors with an alcoholic, wood, and smoothly bitter aftertaste.
LINK: Peaks & Pints cooler inventory
---