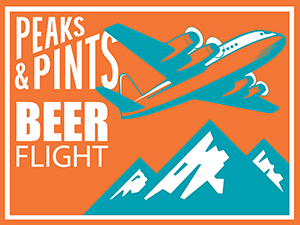 There are those who shy away from the right side of Peaks & Pints. And, by right side, we mean the right side of our Western red cedar tap log — home of the dark beers. Peaks & Pints isn't sure how it happened, but somewhere along the line casual beer drinkers got the wrong idea about dark beer. They're not all heavy or boozy. Take, for instance, the schwarzbier. Schwarzbier is one of the oldest known European beer styles, with origins in Kulmbach, Germany, circa 800 BC. Pronounced sh-vahts bee-uh, this lager style is named after its appearance, similar to other German lagers. Schwarzbier translates to black beer and may seem unapproachable, but the reality is quite the opposite. The body of schwarzbier is as light as any mass-produced lager you'll find; the ABV is pretty much the same as well. The only difference is that the malted barley used in the beer was roasted before it was added to the mash. This changes the color, sure, and adds toasty coffee and chocolate flavors to the finished product but does not affect the thickness of the liquid or the alcohol content. Some dry roasted coffee tones are also characteristic, but schwarzbiers should not have a burnt-bitter or astringent taste. They will have low hoppiness and are considered a well-balanced beer. Today, Peaks and Pints suggests a to-go flight of schwarzbiers that we call Peaks and Pints Pilot Program: Schwarzbier Flight. Prost!
Peaks and Pints Pilot Program: Schwarzbier Flight
Rainy Daze Schwartzbier
4.2% ABV
A bronze medalist at the 2022 Washington Beer Awards, Rainy Daze Brewing's Schwartzbier is an obvious a schwarzbier people drank in the film, Spaceballs. This light body dark lager is black in color, slightly malty yet well balanced with hints of chocolate and coffee.
Double Mountain Never Too Loud
4.6% ABV
Double Mountain Brewery's German-style schwarzbier called "Never Too Loud!" is brewed with a yeast strain of German and Australian decent, fermenting it low, slow, and clean, accentuating the malt and yeast profiles. They experimented with a new malt — Black Prinz and Midnight Wheat from Briess — as it sheds the husk, giving color without the astringency, and lending some lovely head retention. The hops play second fiddle, balancing and adding subtle nuances to complement the yeast and malts. Expect aromas of espresso bean and rustic bread that riff hard over a clean biscuit and baker's chocolate chord progression.
Köstritzer Schwarzbier
4.8% ABV

In April 1991, the Köstritzer Brauerei, a subsidiary of the Bitburger brewery, shed its 1543 wardrobe and emerged as of one of the most modern breweries in Thuringia, Germany. In September 1993, it re-introduced the "original Köstritzer black beer," a traditional bottom-fermented lager that contains a distinctive fine malty flavor due to the use of refined barley malt. It's a delicious blend of light freshness with a smooth, sweet finish.
Foreland Glass Volcano
5% ABV
Foreland Beer's Glass Volcano Schwarzbier hits the nose with roast, toasted grains, cocoa, some earthiness, and wafts of freshly baked brown bread, followed by a huge hit of dark chocolate and roasted barley. Light earthy notes and coffee fade in and out of the picture while bready malt remains constant but shines in the middle before roast and cocoa re-enter and lead to the close.
Fast Fashion Reflection
5.2% ABV
Recently, Fast Fashion opened their new home on Lower Queen Anne in Seattle. Before, the boutique brewery owned by Matt Storm of The Masonry and Brian Strumke of Stillwater. Their Reflection schwarzbier style black lager is brewed with Hallertau Mittelfruh for sweet chocolate cereal without a ton of roast.
LINK: Peaks & Pints cooler inventory
---