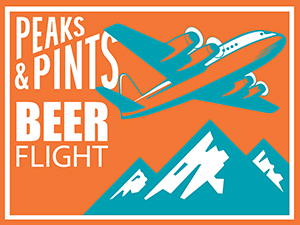 Let's recap. West Olympia letter carrier, botanist, and homebrewer Patrick Jansen met Darby's Café owners Nate and Sara Reilly at the Helsing Junction music and sleepover festival and the three opened Three Magnets Brewing in 2014. In June 2017, Jansen and Grant Bolt — a bartender at Three Magnets as well as founder of WortWorks Soda Co. — opened Matchless Brewing Co. near the Olympia Regional Airport in Tumwater. With Grant as president and Jansen as director of brewing operations, the duo began cranking out award-winning craft beer in a 9,000-square-foot brewery and taproom. Jansen eventually left and environmental scientist turned Redhook brewmaster Nick Crandall became Matchless' head brewer brewing Jansen's popular beers, as well as brewing his own treasures. Today, Peaks & Pints presents a to-go flight of Matchless' recent releases — a flight we're call Peaks and Pints Pilot Program: Matchless Beer Flight.
Peaks and Pints Pilot Program: Matchless Beer Flight
Matchless Hop Stripe
6% ABV
Admit it: you used to mix sticks of Fruit Stripe gum together to make your own unique flavor. That's cool, so did Matchless Brewing. And the Tumwater brewery misses it so much that they made an IPA that does the same thing. Using just the right combination of Waimea, Citra, and Topaz hops (for flavor that lasts) with a bit of maltodextrin (to give it just a hint of sweetness) this juicy IPA will make you think of cartoon zebras.
Matchless T.A.G.
6.9% ABV
"Finish your pizza and get your laser blasters & vests ready 'cause we've got a beer fit to pair with one of our favorite games. Laser tag is back!" states Matchless Brewing. "And this time the T.A.G. (touch and go) is Topaz, Azacca, and Galaxy hops packing a blast fit for any player! Flashing lights got nothing on the tropical notes Capri yeast brings, hitting the flavor target for double dry bonus points. You won't have to run from Malteurop Pilsner and Weyermann Carafoam malts either as they help deliver straight laser beams of body to this juicy goodness! Players Ready?!" Well, are you?
Matchless Hoponista
7% ABV
This popular Matchless lavish, hazy number is loaded with Strata and Nectaron hops, adding bold tropical and stone fruit statements. Both are accompanied by an elegant classic with timeless beauties, Citra hops, for a citrusy quenching finish. All of this is wrapped up in an ensemble of pilsner malt and crystal wheat featuring a sassy accent of flaked oats. Expect all the fruit with citrus taking the lead.
Matchless The Hoppy Giant
9.2% ABV
"The local villagers say that a giant lives deep in the woods, way up the mountain. A giant so robust with Centennial, Simcoe, Motueka & Enigma hops but gentle and kind with a little Idaho 7. A dank hoppiness with grapefruit & tropical fruit notes. Be this giant friend or foe? Drink in moderation to find out." … so states Matchless Brewing The Hoppy Giant hype. The Giant hits the note with big, sweet orange citrus resin. On the tongue, expect sweet orange, marmalade, and sticky sweet resin.
LINK: Peaks & Pints cooler inventory
---