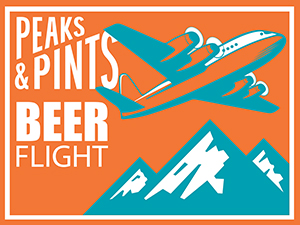 Formed in 2003, the Hop Breeding Company, or HBC, is a joint venture between John I. Haas and Yakima Chief Ranches. It's a match made in hop heaven as they have released HBC 394 (Citra), HBC 369 (Mosaic), HBC 366 (Ekuanot), and the focus of our beer flight today, HBC 438 (Sabro). Released in 2018, Sabro is an aroma hop that is notable for its complexity of fruity and citrus flavors. It imparts distinct tangerine, coconut, tropical fruit, and stone fruit aromas, with hints of cedar, mint, and cream. Sabro's pedigree is the result of a unique cross pollination of a female neomexicanus hop. With a robust brewing performance, Sabro proves to be a strongly expressive hop that translates its flavor incredibly well into beer. Pick up or to-go flight Peaks and Pints Pilot Program: Sabro Hops On the Fly, and discover the goodness yourself.
Peaks and Pints Pilot Program: Sabro Hops On the Fly
Three Magnets Pomp And Frills (Teal Variant)
5% ABV
Evergreen State College alumni Nathan and Sara Reilly, who had been running Darby's Cafe for nearly a decade in downtown Olympia, opened neighboring Three Magnets Brewing in November 2014. They hit the lottery when they hired head brewer and "Local Sourcing Liaison" Pat Jansen, who also hit the lottery with assistant brewer Jeff Stokes. Together, they brewed a wide range of award-winning craft beers. Jansen went on to open Matchless Brewing and Stokes took over until he took the head brewer job at Sig Brewing. Today, Aaron Blonden of Matchless Brewing and Chainline Brewing fame runs the kettles at Three Mags. His Pomp And Frills (Teal Variant) hazy pale ale is triple dry hopped with Sabro.
Wander Crepuscular Rays
6.2% ABV, 15 IBU
Colleen and Chad Kuehl wandered into each other at the University of Iowa many years ago, then wandered around the world. Then engineer Chad wondered about craft beer, eventually attending the American Brewer's Guild in 2011 before working at Hilliard's Beer in Seattle. They wondered what would happen if they started Wander Brewing in Bellingham. Peaks & Pints wanders how much Sabro is in this hazy flaked oat and barley filled juicy IPA. It's hopped with Sabro, Motueka, Azacca, and Citra for a mega-mellow honeydew melon bomb. It brings an extra soft body with minimal bitterness, like a beam of soft sunshine cutting through clouded vibes.
Bosk No Ceilings
6.5% ABV, 63 IBU
This year marks the 14th anniversary of the Pink Boots Society, a nonprofit with the mission to encourage the professional advancement of women within the international brewing industry. A Pink Boots collaboration, Bosk Brew Works' No Ceilings West Coast IPA is brewed with a touch of caramel malt for color and a lot of the Pink Boots Blend of Cashmere, Ahtanum, Citra, Loral, and Sabro hops for a burst of citrus and tropical flavor with a cedar undertone.
Stoup Vibe Check
6.3% ABV, 56 IBU
Stoup Brewing would like to check in with you. They want to make sure you're feeling good and staying positive. Not feeling great? Check your vibe and enjoy a pint of this West Soast IPA dosed with Sabro Cryo, Loral Cryo, Mosaic, and Nelson hop goodness. Crisp and clean, it's a hoppy IPA with notes of bitter pine resin, citrus, and a candy-like finish. Feeling better?
Silver City Pirate Angel
7% ABV
Kveik is a Norwegian word meaning yeast. In the Norwegian farmhouse tradition, kveik was preserved by drying and passed from generation to generation. Kveik is the original, traditional dried yeast. Silver City Brewery brewed their Pirate Angel hazy IPA with a specialty Norwegian yeast, as well as oats, wheat, and Sabro hops for big natural aromas of peach and orange, hint of lemongrass. Expect a full body, yet smooth, some sweetness, some bitterness, and all the tropical flavor.
LINK: Peaks & Pints cooler inventory
---