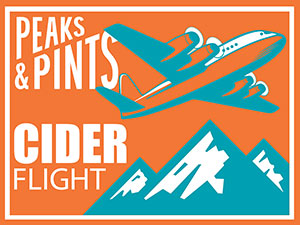 Summertime. For some, that means time to slow down, fire up the grill, stroll through free street fairs, maybe make out in the back of a car at the drive-in. Not Peaks & Pints. Summer is an adventure. This year we're playing hard and going large — from Snowboarding on Mount Hood, to paddling the Wentachee River, from conquering the rugged Washington coast, to unwinding in a tree house. And we're bring hard cider with us. In fact, since it's Monday and we feature a to-go cider on this day of the week, our flight today encompasses the cider we're bring with us on our summer adventures. Stop by our craft beer and cider bar, bottle shop and restaurant, grab the Peaks and Pints Pilot Program: Summer Ciders On The Fly and head out on an adventure.
Peaks and Pints Pilot Program: Summer Ciders On The Fly
Seattle Cider Papaya Sparkling
4.2% ABV
Joel VandenBrink, the founder of Two Beers Brewing Co., launched the Seattle Cider Company in August 2013, with the help from his Two Beers sales rep and a former farm hand Eric Willard. Diagnosed with Crohn's disease, which makes beer difficult to digest, VandenBrink launched the cider company with only two products: Semi Sweet and Dry. Today, Seattle Cider has many options, including Papaya Sparkling, which is inspired by seltzer and crafted in the tradition of their ciders, ala apples. It's light, refreshing, and naturally gluten free.
Independent Lavender Perry
5.5% ABV
Montana State University friends Micah Roberson, Michael Partheymuller and Kramer Christensen opened Independent Cider in the upper Wenatchee Valley near Leavenworth and Cashmere. They produce handcrafter perry — a cider made completely with fermented pear juice as its base — playing up on the natural sweetness and pear flavor in their products. Their Lavender Perry is made with two varieties of lavender harvested down valley from their pear orchards. The blended buds from this mid-summer flower are dried and steeped to contribute subtle lavender notes and flavors.
Portland Cider Tangerine Dreamsicle
5.5% ABV
Oregonian Jeff and British Lydia launched Portland Cider Company in 2012 with the intent of marrying English cider traditions with the innovative Northwest micro-brewing culture.  It all started from a desire to make the clean, dry cider Lynda grew to love in England, and Jeff yearned to find in Oregon.  They combine rich and complex vanilla from Singing Dog Vanilla and bright and zesty tangerines for a cider take on their favorite childhood ice cream bar. The tangerine juice lingers on your tongue while that heavenly vanilla keeps things mellow, cool, and dreamy.
2 Towns Two Thorns
6.2% ABV
In late 2010, Corvallis homebrewers Aaron Sarnoff-Wood and Lee Larsen filled a gap in the college town's drinking scene — cider. The duo opened 2 Towns Ciderhouse crafting unique ciders brewed with the traditional English and French-style's tannic apples, Oregon grown, of course. The Portland Thorns FC is an American professional women's soccer team based in Portland, Oregon. Established in 2012, the team began play in 2013 in the then-eight-team National Women's Soccer League. 2 Towns Ciderhouse teamed up with the Thorns to created Two Thorns, a rosé cider made with fresh-pressed Northwest apples, raspberries and rose petals. The result is a uniquely fragrant cider with a vibrant red hue.
Channel Marker Sunset Surf Session
6.5% ABV
Nestled between the lush Cascade Mountains and the salty Puget Sound, the maritime climate and adventurous spirit of Seattle provides the inspiration for Channel Marker cider recipes. And They source, forage and grow many of our ingredients from around the Sound — their backyard. Their Sunset Surf Session brings beach vibes with its squeeze of fresh grapefruit and sprinkle of San Juan Island sea salt. Enjoy this light, dry cider in front of the sunset.
Tieton Hazy Strawberry
6.9% ABV
Unfiltered, cloudy-looking ciders are much like the hazy-style IPAs that have been taking the beverage scene by storm. When the step of the cidermaking process that filters these sediments out is yielded, it results in the clouded appearance of an unfiltered cider, fuller mouthfeel, and a richer flavor. Tieton Cider Works naturally unfilters this strawberry cider with a ruby blush color. Sweet strawberry blends with fresh pressed tart cider for a balanced summer sipper.
LINK: Peaks & Pints cooler inventory
---