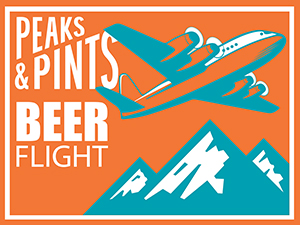 Ruse Brewing looked like a mirage yesterday. The blue-ish building shimmered in the 91-degree heat. Once we saw the long to-go beer line we knew, indeed, it was Ruse. Shaun Kalis and Devin Benware has a more crystal clear vision of their Ruse. In fact, the duo began brewing their Ruse beers on a big system before Ruse was a thing. When not brewing for Tomas Sluiter at Culmination Brewing, whom they originally worked under at the Old Market Pub & Brewery in Multnomah Village, they used Tom's tanks to make their Ruse beer. (That's six Ruse references so far in this intro paragraph. Yes, we're excited to have more Ruse at Peaks & Pints. OK, seven references.) Kalis and Benware moved into their big southeast Portland facility two years ago almost to the week. These guys are experts of adjunct ingredients and yeasty expressionism, and Peaks & Pints is thrilled to offer the to-go Ruse beer flight, Peaks and Pints Pilot Program: Ruse On The Fly.
Peaks and Pints Pilot Program: Ruse On The Fly
Ruse Deserted Dessert
10.7% ABV, 48 IBU
Kalis and Benware invited Santa Cruz brewery Humble Sea to Portland to brew this decadent double mashed liquid dessert. Deserted Dessert imperial stout is brewed with an inconceivable amount of malted and rolled oats. It was then conditioned on chocolate, vanilla, candied pecans from Albina City nuts and whole bean coffee from Cat & Cloud.
Ruse Exit Dreams
5.3% ABV
Modern Times Beer joined Ruse in brewing this Mexican-inspired dark lager with flaked maize, a touch of specialty malt, and Spalter select hops. After several weeks of lounging at a frosty 31 degrees the two breweries decided this crispy summertime crusher was ready. Expect light roastiness, nuttiness and a balancing hit of floral.
Ruse Imaginary Lines
6.9% ABV
Kalis and Benware dig Citra and Mosaic as a base for their hazy IPAs, including Imaginary Lines. This IPA is brewed with crazy amounts of malted and rolled oats followed by two heavy dry hop charges of, wait for it, Citra and Mosaic, plus some Strata to push the berry flavors even further to the front. The oats give the fruit notes an added boost. The result is a smooth, clean IPA with a silky mouthfeel and citrus finish.
Ruse Picture A Perfect Picture
8% ABV
Close your eyes. Picture a picture of a prefectly poured pitcher. Picture that picture of a perfectly poured pitcher pour a predictably pretty pint. Open your eyes. Of course, you're at your home drinking a Ruse and Cloudburst Brewing collaborated Picture A Prefect Picture hazy double IPA. They started with a mix of red and white wheat alongside some slightly hot side Citra and Idaho 7. Then, they co-fermented it with a blend of each of our breweries' favorite IPA yeasts. After that reasonable craziness, they double dry hopped it with Citra and Strata for all the orange.
Ruse Eternal Shapes
7% ABV
This new school West Coast IPA has a smooth malt presence backed up with an everlasting juicy, citrusy flavor and aroma from Citra and Simcoe.
Ruse Translator
6.6% ABV, 60 IBU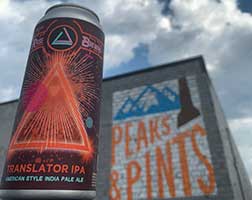 This is Ruse's true West Coast IPA. This medium-bodied, well-balanced IPA uses dry-hop additions to achieve tropical fruit flavors and aroma, including orange and caramel malt. Expect a clean, dry finish with a big-hop punch.
---