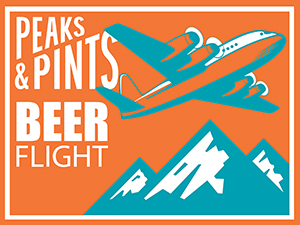 Hemingway drank it in doubles and Bluebeard pirated the seven seas fueled on the stuff. It's rum, and it's having a day. Today, July 11, marks World Rum Day, a time to celebrate the rich flavor of the spirit that infamously lubricated pirates and sailors back in the day. Rum is said to have originated in the Caribbean island of Barbados in the 17th century. Since then, it has made its way around the world, becoming one of the most versatile and beloved spirits. Peaks & Pints celebrates World Rum Day in the only way we know how — Peaks and Pints Pilot Program: Rum Day On the Fly, a to-go flight of beer made with rum. Don't expect to see Captain Morgan, obnoxious men in Hawaiian shirts, or a parrot or two when you arrive at our little lodge in the Proctor District. Do expect to walk out with tasty rum barrel-aged treasures.
Peaks and Pints Pilot Program: Rum Day On the Fly
Maui 15th Anniversary Blend
11% ABV
In January 2020, Maui Brewing celebrated 15 years of fiercely loyal dedication to "aloha 'aina" — the love of the land — with their silky smooth 15th Anniversary Blend of Imperial Porter, Imperial Stout, Barleywine, and Imperial Brown aged for 12 months in bourbon, Cognac, brandy, and rum barrels. Expect spicy endnotes from toasted papaya seeds with estery sweetness from Belgian yeast, and warming finish.
Founders Barrel Runner
11.1% ABV
Founders Brewing Barrel Runner is a mosaic-hopped ale aged in rum barrels. "I drink tiki cocktails probably more than I should and looked to them for inspiration when creating Barrel Runner," said Brewmaster Jeremy Kosmicki in a news release. "You get a lot of bright, tropical character from the abundance of Mosaic hops plus a nice kick of oak and rum from the barrels. Add a tiny umbrella and you got yourself a beer perfect for enjoying poolside."
Deschutes Black Butte XXXII
13.4% ABV
In celebration of Deschutes Brewery's 32nd anniversary, this year's spin on the imperial porter is inspired by the flair of a Spanish Coffee, specifically from Huber's, a popular Portland bar famous for their version of this cocktail (they light it on fire!). Infused with cold brew coffee and spiced with nutmeg and vanilla bean, Black Butte XXXII was aged in 12-year-old Colombian Rum Barrels and combines aromas of chocolate, roasty notes, and coffee.
Avery Plank'd
16.2% ABV
Avery Brewing's 2018 imperial porter was brewed with coconut then aged three months in rum barrels for flavors of toasted molasses, caramel, delicious rum barrels and light coconut. Oh, and it's 16 percent ABV, which is why this description is so short.
---