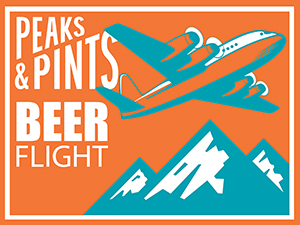 Down south over yonder hills, just outside Eugene, Oregon, Alesong Brewing & Blending focuses almost exclusively on small batches of oak-aged and Belgian-inspired brews since it first began producing beer in early 2016. Alesong has stood out among the crowd with its blending and barrel-aging techniques. In fact, in its first 18 months of business, Alesong's small batch, barrel-aged blends received more accolades than some breweries will see in their lifetime. Just two months after opening, it won gold at the Great American Beer Festival awards for their dry-hopped farmhouse ale, Touch of Brett. The brewery typically releases four beers every quarter, made with seasonal ingredients. Since Peaks & Pints just received their Peche fruited sour, we thought no better time to suggest a to-go flight of Alesong beers. Peaks and Pints Pilot Program: Alesong On the Fly offers four excellent beers to enjoy at home.
Peaks and Pints Pilot Program: Alesong On the Fly
Alesong Peche
7.2% ABV
This wild-fermented and hazy farmhouse ale sees Saccharomyces and blend of Brettanomyces and Lactobacillus, plus nine months in French oak. While that process is magical, then next step is David Copperfield: Alesong adds 3.5 pounds of ripe organic peaches per gallon of beer — more fruit than they have ever used — and the fruit's wild yeast. The yeast and bacteria on the Oregon peaches re-ferment the beer, uniquely changing the aromas and flavors unlike any other fruit could, during a three-month additional barrel aging. The result is ripe peach and citrus flavors with an earthy yeast complexity, plus a finish with a light-bodied zip of acidity.
Alesong Framboise
7.4% ABV
Framboise, French for raspberry, is a sour ale aged in French oak barrels with raspberries from Stahlbush Island Farms in Corvallis. The lambic begins its life as a blend of barrel-aged golden sour beer that is then conditioned on Oregon raspberries, imparting a beautiful magenta color. Jammy fruit aromas give way to a tart and refreshing beer that finishes crisp and dry.
Alesong Rhino Suit
11.4% ABV
The name Rhino Suit isn't something the three Alesong owners wear to raise awareness and funds, but rather it's a term dropped by their winemaker friend while Doug Coombs, Brian Coombs and Matt Van Wyk listened to his business advice. The Sonoma winemaker said you have to wear a rhino suit every day to battle through walls of negativity. After the meeting, the Alesong owners knew the name of their first beer. This version is aged 100 percent in freshly emptied Heaven Hill bourbon barrels that added smooth notes of vanilla and coconut to the rich chocolate flavors of the base stout. After working your way through the wax-dipped entryway, a strong rush of bourbon with milk hits the nose. On the tongue, expect creamy, milk smooth body with notes of dark chocolate and vanilla, plus some alcohol heat on the finish.
Alesong Señor Rhino Suit
11% ABV
Inspired by Mexican hot chocolate, this Heaven Hill bourbon and Cazadores tequila barrel aged stout oozes with rich cocoa nibs, and spicy cinnamon aromas with background notes of sweet vanilla bean. It finishes with a hint of heat from roasted ancho chiles, complementing the full-bodied decadent flavors.
---