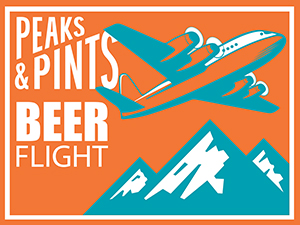 Did you know today is National Raspberry Cake Day? No? You're not alone. Every local baker we contacted was oblivious to the existence of this food holiday. But exist it does. After looking online, however, the origin of this day is still a mystery to us as well. Even with its dubious history and lack of prominence, National Raspberry Cake Day deserves at least a little attention. Did you know an individual raspberry is made up of about 100 drupelets? Did you know Raspberries contain vitamin B1, vitamin B3, folic acid, magnesium, copper and iron? Peaks and Pints doesn't serve raspberry cake, but we do serve raspberry craft beer. Therefore, enjoy our to-go beer flight Peaks and Pints Pilot Program: Raspberry Beer On The Fly.
Peaks and Pints Pilot Program: Raspberry Beer On The Fly
Kulshan Raspberry Gose
4% ABV
Bright and highly sessionable, Kulshan Brewing's Raspberry Gose pays homage to Northwest Washington's unbeatable long summer days and the hardworking raspberry farmers of Whatcom County. Malted wheat, Pilsner malt` and German Perle hops and fresh raspberries are inoculated for a hazy pink-ish summer sipper. Expect mild sour aroma with berry notes, some body, light malt base and slight tartness.
Anderson Valley Framboise Rose Gose
4.2% ABV, 12 IBU
Developed as their take on a rosé in beer form, the brewers at Anderson Valley Brewing brought Framboise Rose Gose to life by adding rose hips to the boil and fresh raspberry puree at the end of fermentation.  These additions result in a light ruby hued kettle-soured beer highlighted by subtle raspberry fruit notes that greet the nose and fall soft on the palate; tangy, hibiscus-like flavors that mingle with the salty tartness of gose to create a uniquely complex and refreshing drinking experience.
Rogue Raspberry Tartlandia
4.9% ABV, 9 IBU
Rogue Ales & Spirits offers Raspberry Tartlandia, a sour ale brewed with raspberry, coriander and hand-harvested salt from Newport's Yaquina Bay. This delicious tart and salty gose pays homage to their home in Newport, Oregon, with salt they hand harvested from the Yaquina Bay in their backyard and is inspired by a beer that they brewed with Chris Rogers to celebrate the Oregon Coast Community College's independent accreditation.
Fair Isle Himmat
5.8% ABV
Geoffrey Barker and Andrew Pogue met as members of the North Seattle Home Brew Club. They both love saisons and sours. They traveled to mixed-fermentation guru Jester King in Austin, Texas, where they added to their friendship circle. With the help of Jester King, Barker and Pogue opened Fair Isle Brewing in January 2020 focusing on mixed-culture and wild beers, such as saisons, grisettes, bier de garde, farmhouse and American-style sour beers. Their Himmat saison is refermented on raspberries from Sidhu Farms in Puyallup. It's bright, with big notes of raspberries and watermelon rinds followed by underlying earthy notes and a soft tartness.
Evil Twin Blue Raspberry
6% ABV
In the mid-90s, Denmark teacher Jeppe Jarnit-Bjergsø became tired of Carlsberg beer so he and 15 friends formed a beer club to drink unusual beers. He opened a beer store in Copenhagen in 2005 so he could taste more unusual beers. The rest, as they say, is history. His Evil Twin Brewing Blue Raspberry sour IPA is super tart and extra fruity. the only thing wilder than this beer's intense raspberry punch to the palate is its bright turquoise pour.
LINK: Peaks & Pints cooler inventory
---