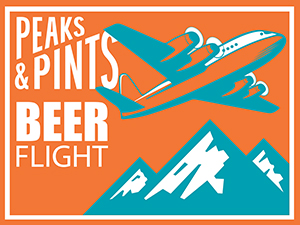 The longest days of the year are upon us, so how will you take advantage of the extra hours of daylight? With temperatures cooking at 89 degrees today, it's tempting to spend today watching Netflix and chilling — literally — in, hopefully, your air-conditioned home. But that would mean missing out on partying on your patio, deck, or balcony. It's Friyay! Today's all about outdoor grilling and the thrill of accidentally dripping hamburger juice on your bare feet. It's about loud music, Slip 'n' Slide, and telling funny stories while enjoying craft beer. Peaks & Pints has gathered a themed to-go flight of craft beer for your late-afternoon or night backyard dance party. Stop by our craft beer bar, bottle shop and restaurant and grab Peaks and Pints Pilot Program: Backyard Dance Party On the Fly. So. Is it September yet?
Peaks and Pints Pilot Program: Backyard Dance Party On the Fly
Ex Novo Roller Rink Playlist
6% ABV
She is about as tough and sassy as they get. Only five-foot-one, she's a Dockyard Derby Dame and has made a name for herself as a mean blocker, keeping her opponents at bay with some angry elbowing and body-checking. She's a favorite off the rink, too, perhaps because she arrives at parties wearing hot pants, miniskirt, checkered socks, and roller skates. Tonight, surprise her with Ex Novo Brewing's Roller Rink Playlist hazy IPA. It's brewed with 2021 Australian Eclipse, Citra, and Mosaic Hops for intense aromas of pineapple and mango. If she's sporting her own playlist for the party, take our advice and just let it gliiiide.
Mirage Male Entertainer
6.8% ABV
Mirage Beer founder and head brewer Michael Dempster has cut back his craft beer releases as he's still in the process of moving his operation and adding a taproom. In the meantime, he would like you to enjoy a Male Entertainer — his latest collaboration with Washington, D.C.-base artist, E$. Together, they offer a salute to the greatest film ever made: Magic Mike XXL. Male Entertainer is a New England-style IPA brewed with self-affirmation and El Dorado Incognito™ in boil and whirlpool and later double-dry-hopped with El Dorado Lupomax™ and standard El Dorado T90 pellets. Enjoy the tropical flavors and keep the dollar bills to yourself.
Revision Disco Ninja
7% ABV, 40 IBU
Revision Brewing has won awards in Japan, Australia, Germany, Belgium, and in numerous competitions across the United States. Most recently, the 2020 USA Beer Ratings held in San Francisco announced Revision as the Brewery of the Year and its Northeast-style IPA, Disco Ninja, was awarded Beer of the Year and Best Beer by Quality and Best in Show. Brewed with Shoe Tree Brewing, Disco Ninja is brewed with Citra, Galaxy, Mosaic, and Amarillo hops for resinous pine, ripe mango, and lemongrass flavors. Load the Donna Summer playlist and dance like a ninja.
Matchless Big Fizz
10% ABV, 30 IBU
Millennials have spurned the former cash cow of cheap, mass-market beer to careen among a series of unpredictable booze trends including canned cocktails. The middlebrow fanciness of cracking open a cold Moscow mule in your backyard might be the thing to satisfy a generation whose desires often outpace its disposable income, but your patio is a craft beer safe word. To satisfy your booze in a can friend, try Matchless Brewing's Big Fizz. Inspired by the ginger lemon cocktail of its namesake, this strong blonde ale was aged in bourbon barrels and blended with fresh lemons and ginger. Big notes of whiskey, citrus brightness and just a touch of spice from the ginger will have your friend saying, "I think I'll have another one of them lemon-ginger-bourbon thingies."
LINK: Peaks & Pints cooler inventory
---