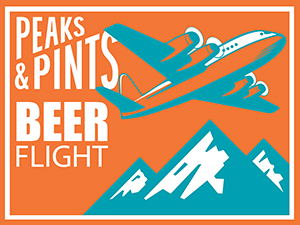 These days, beers with adjuncts such as spices, chocolate, and fruit have become as common as billionaires burning rocket fuel to manage their insecurities. Gone are the times when a pie-inspired beer dropped jaws. And here, now, is a weird phase in the billion-armed evolution of craft beer, where ordering a stout made to taste like a candy bar or a fruited sour resembles a smoothie. We're seeing an influx of sours brewed with fruit in many ways, from puree to infusion, with the goal re-creating a nostalgic flavor in beer form. Today, Peaks & Pints presents a to-go flight of raspberry flavored beer with and without the craziness. Stop by our craft beer bar, bottle shop and restaurant and grab Peaks and Pints Pilot Program: Raspberries On The Fly.
Peaks and Pints Pilot Program: Raspberries On The Fly
Talking Cedar Raspberry Blonde
4.7% ABV
Former Harmon Brewing head brewer by way of former Bridgeport Brewing Bill Lundeen helped the Chehalis Tribe build the 60-barrel brewhouse with six 120-barrel fermenters Talking Cedar Brewery and continues to lead the production side. Their Raspberry Blonde hits the nose with ripe raspberry and delicate malt, followed by raspberry flavor and slightly tart finish.
Avery Barrel-Aged Raspberry Sour
6.5% ABV
Avery Brewing took luscious ripe red raspberries and intertwined them with a bountiful amount of lactic acidity and delicate barrel nuances to cultivate this stunning sour ale. The nose is bursts with raspberry, sourness, and Brettanomyces character. This sour's flavor has a similarly prominent raspberry flavor but is squashed by a palate-wrenching sourness from start to finish. Pro tip: When this beer warms, the aroma takes on a boozy, wood-aged character and the finish becomes sharper.
Skygazer Watercolors Christmas Creamee
5.5% ABV
Smoothie sour beers (also known as pastry sours) are the evolution of the fruited kettle soured beers that made a resurgence and grew incredibly popular in the early part of the 2010s. Around the same time, brewers began to add non-traditional ingredients to traditional styles to recreate baked goods and desserts in liquid form. At their essence, the common denominator is always extremely large amounts of unfermented fruit puree. By leaving the fruit unfermented, the brewer is essentially trying to make a beer that looks, smells, and drinks like a fruit smoothie from a juice café, but with alcohol. After that is achieved, there is a never-ending list of adjuncts and spices that can be added to create whatever flavor a brewer wants. Skygazer Brewing added gingerbread and marshmallow to tons of raspberry puree to make their Watercolors Christmas Creamee smoothie sour.
Block 15 Cardinal Coalescence – Raspberry
6.1% ABV
Inspired by the classically tart and delightfully complex red ales from the Flemish region of Belgium, Block 15 Brewing Cardinal Coalescence – Raspberry blends fresh red ale with portions of mature brandy barrel-aged ale from their wild cellar. Extended conditioning in oak foeders with raspberries allows this blend to develop wonderfully balanced notes of raspberries, caramel, and dried fruit character alongside a complex acidity.
Browar Fortuna Komes Raspberry Porter
8.5% ABV
Browar Fortuna Komes Porter reflects the history of brewing, referring to the 18th century tradition of brewing porters in the Baltic states. Baltic porters use lager yeast, or cold-fermented ale yeast, lending a cleaner taste relative the fruiter ales. Slow fermentation at low temperatures in open vats, coupled with long maturation have resulted in the beer's character and complete, complex nature. At the maturing stage this raspberry version is enriched with raspberry juice, Madagascar vanilla and Indian chili peppers. It offers a unique combination of sweetness from the porter and vanilla and fruity notes of raspberries, topped with a slightly spicy finish. Over time in bottle, it changes its profile to increasingly mild when the notes of the roasted malts transform into dark fruits, reinforcing the beer's fruity aspect.
LINK: Peaks & Pints cooler inventory
---