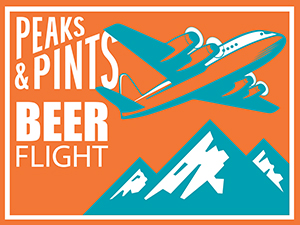 The temperature has dropped, and below freezing temperatures are in the forecast. It's time to stock up on porters. Once a staple of the craft beer movement, the porter is now a forgotten favorite. The style is often misunderstood, too; many believe dark beers are always heavy and strong. The porter can be inviting in its balance of malts and hops and its modest strength. The name itself is a reference to beer made famous by the hard-working masses. Porters of the London shipyards considered it their beer of choice as early as the 1700s. Thinness did the porter in — far too many brewers used theirs as the beer poured for customers who didn't like beer. That's not the case with the porters in today's Peaks & Pints to-go flight of new porters. Put on your bulky coat and mittens and head to our bottle shop for Peaks and Pints Pilot Program: Polar Porters On the Fly.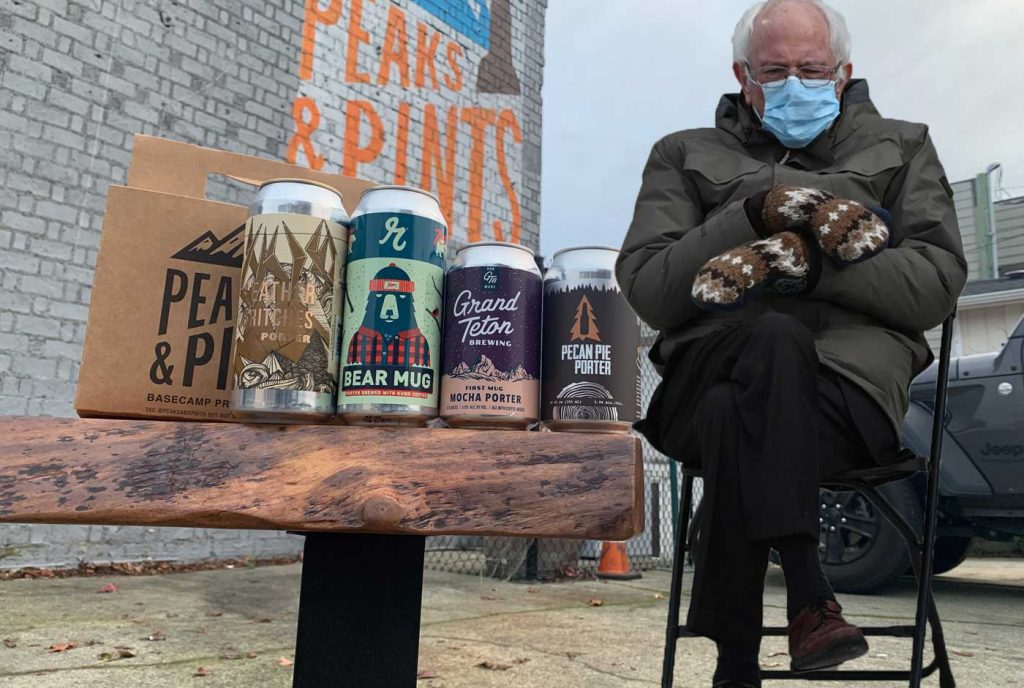 Peaks and Pints Pilot Program: Polar Porters On The Fly
Grand Teton First Mug Mocha Porter
5% ABV
Like your first mug of coffee on a cold winter day, Grand Teton Brewing First Mug Mocha Porter will warm you up. This beer is brewed with fresh Alpine Air Coffee, locally roasted in the brewery's hometown of Victor, Idaho, with a 25 percent Ethiopian and 75 percent Columbia blend. Brewed with 2-row, Marris Otter, Chocolate Rye, CaraMunich 3 and Victory malts, expect With abundant chocolate, plum and coffee flavors.
Backwoods Pecan Pie Porter
5.9% ABV, 20 IBU
Nestled on the edge of lumber country along the Columbia Gorge, Backwoods Brewing Co.'s Pecan Pie Porter satisfies the sweet tooth. This mahogany-colored porter, brewed with whole PECANS, showcases the nut's earthiness in the aroma. Made with five different grains, including chocolate and caramel malt, this seasonal porter gives off subtle chocolate notes, complimented with hints of vanilla and pecan.
Reuben's Bear Mug
5.9% ABV, 30 IBU
Mixing caffeine and alcohol is nothing especially new, of course. Beyond Irish coffee and Four Loko, brewers have been slowly working coffee into the DNA of craft beer, too. A collaboration with Kuma Coffee in Seattle, Reuben's Brews Bear Mug is a special batch of Reuben's award-winning Robust Porter with a custom blend from Kuma. Bear Mug coffee porter is rich and roasty with an added layer of fruit sweetness from Kuma's custom roast coffee beans.
Blackberry Farms Leather Britches
6.4% ABV, 39 IBU
Leather Britches is an old southern method for preserving late-summer green beans for winter eating. The beans are harvested, left in their pod and hung up to dry. Dehydrating on the string, they start to look like leather pant legs. Brewed in collaboration with Heidi Geist of the 48 Beer Project, Blackberry Farms Brewery pays homage to a farm tradition with this dark, rich porter featuring a malty finish and hints of dark fruit and chocolate.
---