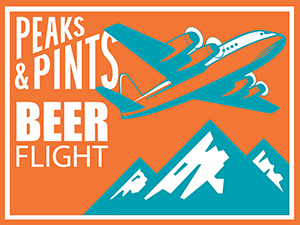 A wine connoisseur loves the complexities and subtleties of a good glass of wine — a balance of sweetness, bitterness, acidity, and real body — which a good beer also sports. Fermentation-driven flavors found in craft beer are just as exciting as those found in wine. Craft beer can be just as elegant, just as refined, just as explosive, and just as flavorful — especially if it's aged in spent wine barrels. Our to-go flight today highlights craft beers aged in Pinot Noir wine barrels or brewed with Pinot Noir grapes. Stop by our craft beer bar, bottle shop, and restaurant in Tacoma's Proctor District and grab Peaks and Pints Pilot Program: Pinot Noir On the Fly.
Peaks and Pints Pilot Program: Pinot Noir On the Fly
Mirage Ray
5% ABV
Mike Dempster opened Mirage Beer in the Seattle South Park neighborhood, south of Georgetown, in November 2017. He earned his chops brewing at Greenpoint Beer Works in Brooklyn, Buoy Beer Co. in Astoria, and Wingman Brewers in Tacoma where he helped Peaks & Pints brew a recreation of Bert Grant's Perfect Porter called Perfect Proctor Porter for our opening day, Nov. 1, 2016. Even though Mirage is currently building a new permanent home in Ballard, this beer began in the Winter of 2020 with a base of spontaneously inoculated wort brewed in the methode traditionnelle and fermented in freshly emptied Cabernet Sauvignon puncheons. In the Spring of 2021, it was blended with a saison brewed with aged hops that spent 36 months in freshly emptied Pinot Noir barrels. It's naturally conditioned in the bottle with Brettanomyces.
8 Wired Snakecharmer
7.7% ABV
In New Zealand, to 8 wire something is to improvise a fix, like bodging in the UK, gaffer taping something in Australia, or MacGyver something in the U.S. 8 Wired in Warkworth, Auckland New Zealand aged a sour ale in Pinot Noir barrels for two years with blackcurrants and a cocktail of microbes, creating a complex mélange of funk, fruit, and tartness. It hits the nose and tongue with light tartness, blackcurrant, oak, vanilla, and funk. We dig the strong barrel character.
The Ale Apothecary Orobas
7.75% ABV
Fermented with equal parts barley and honey, honoring the early, mystical root of brewing, The Ale Apothecary adds raw honey to Orobas' wort in barrels for wild yeast to start fermentation. After 22 months the wild ale is transferred into barrels of Pinot Noir grape pomace from Domaine Drouhin for 7 months.  The result is a 100 percent naturally carbonated wild ale with honey made with 100 percent Oregon ingredients for a dry, grape, and floral sour ale with a tannic bite.
Cascade Valley Flora
10% ABV
With "flora" defined as "plants of a particular region," the name Valley Flora references the Pinot Noir grape as one of the most well-known plantings throughout the Willamette Valley. Valley Flora combines Cascade Brewing and Barrel House's sour red ale with said grapes using traditional brewing and winemaking techniques. Through native fruit fermentation and extended oak maturation, Valley Flora expresses notes of dark bramble fruit, plum, cherry, earth, and oak supported by a balanced tannic structure and lively acidity.
LINK: Peaks & Pints cooler inventory
---