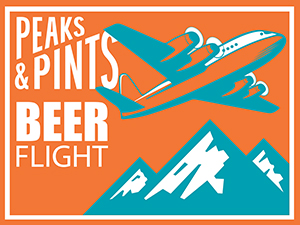 Doesn't a nice cool beer just sound so … pleasant? How about six? If there's anything that can make this Pierce County heat bearable, its Pierce County craft beer. In addition, when you drink local, you drink fresh — but you also support the local economy. We'll break it down for you: When you drink a beer brewed in Pierce County you're not only showing some love for a local business, you're supporting a business that's outsourcing their graphic design to a local artist. Everyone benefits. Today's beer sample flight centers on Pierce County breweries. Please stop by and grab Peaks and Pints Pilot Program: Pierce County On The Fly.
Peaks and Pints Pilot Program: Pierce County On The Fly
Sig Certified Chicharron
5.2% AVB, draft

"Certified what? asks Sig Brewing's description of Certified Chicharron. "Some sort of high society for beer? Yeah, we at Sig took those classes, and decided to throw that all out of the window. Beer doesn't have to be complicated. Certification won't tell you that we brewed up this crispiboi Mexican lager because Dante needs and excuse to cut-back on his Modelo consumption, and that it is EVEN BETTER if you add a lime wedge, and even some salt. This is a no-frills Mexican lager that is meant to be drank in volume, with friends, with tacos, or just anywhere you think you need a beer. Slightly sweet and insanely drinkable. Salud!"
Wingman Brewers Little Radio Low-Fi Lager
4.4% ABV, can
A little over a year ago, Little Radio restaurant and cocktail bar in downtown Tacoma was dialed in by Wingman Brewers' brain trust Ken Thoburn, Derrick Moyer and Michael Hilborn and their business partners Paul Jackson and Jim Shoemake, with manager Jen MaHoney formerly with neighboring Odd Otter Brewing. Named after a tenant of the building in the 1940s, Edward Little, who sold and repaired radios in his shop, Little Radio is on hiatus, but its namesake beer lives on. Wingman brewed Little Radio Lo-Fi Lager a pre-Prohibition lager for their sister restaurant, which pairs perfectly with music from the Big Band Swing era.
E9 Tacoma Brew
5.1% ABV, can
Columbia Brewing Co. brewed Tacoma Brew in the late 1800s in Tacoma's now Historic Brewery District. Beer made at the facility gained national attention for its flavor and smooth aftertaste in the early 1920s, prompting the brewery to double in size and increase capacity by the mid-1930s. Success at the plant got the attention of another brewery, Heidelberg Brewing Co., which purchased the Columbia plant in 1949 and set out for another round of remodeling. The facility was bought yet again a decade later by Carling Brewery, making it the only West Coast holding of the otherwise East Coast beer company. The brewery is long gone but Tacoma Brew, a Kolsch, is still being brewed. Tacoma's Engine House No. 9, now E9 Brewing located in Tacoma's Historic Brewing District, bought the recipe for the breweries' "Tacoma" brew and still serves it many, many years after the originating brewery held its last call. Tacoma's first beer has a medium body accentuated with crisp Northwest hops.
Wet Coast Whisper Sister Hazy Pale
5% ABV, 32 IBU, can
In the slang of the prohibition era, a "whisper sister" was the nickname given by the flappers to a female proprietor of a speakeasy. In the modern-day era, a Whisper Sister is the name of a hazy pale ale brewed by Wet Coast Brewing in Gig Harbor, Washington. This easy-drinking pale is brewed with a hefty dose of oats. Vermont IPA yeast brings the haze and bolsters the tropical and citrus notes of El Dorado and Falconer's Flight hops.
Narrows Socks & Slides Hazy IPA
6.1% ABV, draft
The Tacoma Narrows, a strait, is a navigable maritime waterway between Kitsap Peninsula and the city of Tacoma. Narrows Brewing sits on piling above the waterway brewing the hell out of hazy IPAs, including an easy-drinking, Socks & Slides Hazy IPA brewed with flaked corn and fermented with Kveik yeast. Gentle hopping on the hot side, with a larger dry hop of Motueka and Mosaic, makes this hazy beer subtly bitter, soft and full-bodied, with notes of semi-sweet lemon and lime.
7 Seas Southern Hemisphere Imperial Hazy IPA
7.8% ABV, 45 IBU, can
7 Seas Brewing founded in 2009 by Puget Sound natives Travis Guterson and Mike Runion, production facility and taproom in Tacoma's Historic Brewery District, also a taproom on Gig Harbor's waterfront. Brewed exclusively with Down Under hops Kohatu, Wai-iti, and Nelson Sauvin, their Southern Hemisphere Imperial Hazy IPA delivers extremely lush tropical fruit notes of passionfruit, stone fruit, and lime zest. Kohatu is a new variety with an ideal blend of subtle tropical fruit and pine aromatics. New Zealand's Wai-iti has high oil content with distinctive peach and apricot character. And, of course, New Zealand powerhouse Nelson Sauvin adds ripe tropical fruit and wine-like aromatics.
LINK: Peaks & Pints cooler inventory
---