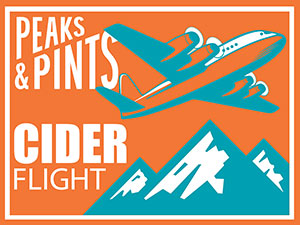 In late 2010, Corvallis homebrewers Aaron Sarnoff-Wood and Lee Larsen filled a gap in the college town's drinking scene — cider. The duo opened 2 Towns Ciderhouse crafting unique ciders brewed with the traditional English and French-style's tannic apples, Oregon grown, of course. Named after the cities of Corvallis and Eugene (Larsen's a Beaver; Sarnoff-Wood a Duck), 2 Towns believes "… that the long history of cidermaking demands respect and deserves to be done right," states the cidery's motto. "Starting with the highest quality whole ingredients from local farms, we take no shortcuts in crafting our ciders. We never add any sugar, concentrates or artificial flavors, and instead use slow, cold fermentation methods to allow the fruit to speak for itself. As a family-owned company, we are committed to the growth of our team and enrichment of our communities. We take pride in producing true Northwest craft cider." Sounds delicious to us, and hopefully to you too in our to-go cider flight, Peaks and Pints Monday Cider Flight: 2 Towns.
Peaks and Pints Monday Cider Flight: 2 Towns
2 Towns Blueberry Daze
5.3% ABV
Crafted with unfiltered, fresh-pressed Pacific Northwest blueberries and Rogue Valley muscat grape juice, 2 Towns Blueberry Daze has whole lavender flower for a rich and floral aromatic experience. The blueberry juice is dark and full of rich berry-licious flavor. The addition of Muscat grapes lends the cider an incredibly fruity and floral aroma, while the lavender finishes the cider with deep, floral, and intoxicating notes.
2 Towns 11th Anniversary
5.7% ABV
"Eleven years ago, we opened the doors to our cellar," states 2 Towns Ciderhouse. "Since then, we have received nothing but love and enthusiasm from all our supporters, who we believe are the very best in the industry. You've grown with us, learned with us, and journeyed along with us in our mission to bring cider back to the people. Every year we strive to release something extra special to you, our passionate supporters. Like 2 Towns, the ingredients for this anniversary cider were all grown and harvested right here in the Pacific Northwest. A blend of McIntosh and Manchurian crab apples create a lively, even sprightly, aromatic profile, while Jonagold apples lend juicy depth that ties the whole cider together. …"
2 Towns Sun's Out Saison
5.8% ABV
Sun's Out Saison is made with tart, fresh-pressed Northwest apples fermented on more than 46 pounds of golden peaches per barrel with an authentic French saison yeast. It's unfiltered, dry, slightly spicy and phenolic cider, with lots of big, clean, fresh-peach aromatics.
2 Towns Made Marion
6% ABV
The Marion blackberry was originally bred for Marion County, Oregon farmers. Tangy and full of ripe, rich berry notes that shine in 2 Towns' Made Marion, even after blended with Northwest apples. The nose is expressive dark berry and cherry, with apple and sweetness. The taste follows suit — blackberry-like, tart and tangy with a medium bodied and low effervescence with a subtly dry finish.
2 Towns Two Thorns
6.2% ABV
The Portland Thorns FC is an American professional women's soccer team based in Portland, Oregon. Established in 2012, the team began play in 2013 in the then-eight-team National Women's Soccer League. 2 Towns Ciderhouse teamed up with the Thorns to created Tow Thorns, a rosé cider made with fresh-pressed Northwest apples, raspberries and rose petals. The result is a uniquely fragrant cider with a vibrant red hue.
2 Towns Cosmic Crisp
8% ABV
Cosmic Crisp apple is the work of 20 years of study and research by Washington State University, resulting in a classically bred hybrid of Enterprise and Honeycrisp apples. The resulting fruit is a large, round, crisp, and super juicy apple that is perfect for snacking, baking, and, perhaps most importantly, cider making. Crafted from a resplendent blend of fresh-pressed juice from its namesake, Cosmic Crisp, and other Northwest apples, 2 Towns' cider shines with strong notes of white currant and pineapple blossom off of a platinum-colored cider that is as crisp and sparkling.
LINK: Peaks & Pints cooler inventory
---