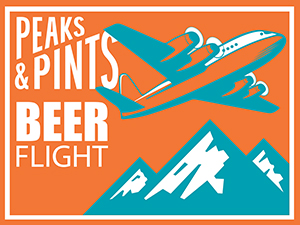 As you no doubt heard, it's Tacoma Beer Week. Tonight, Peaks & Pints hosts our second annual Spread The Jam where we combine fruit-forward beers, local jams and jellies, and jam music into one wonderful night, which begins at 6 p.m. This year, we're bring in pFriem Family Brewers fruited sours to pair with Tumwater jam maker Ila's Foods and, of course, another round of jam music on our hi-fi stereo, aka jukebox. Besides the talent of Josh Pfriem and his brewers, another reason why pFriem excels at fruited sours is the brewery's locale. Nestled against the Columbia River in Hood River, Oregon, the Columbia River Gorge has an abundance of farms and some of the finest orchards on the west coast. pFriem has carved out an expansive fruited sour program — several pouring from our Western red cedar tap log tonight. In addition, we suggest to-go flight of pFriem fruited sours to keep the jam going at your home — a flight we're calling Peaks and Pints Pilot Program: pFriem Fruited Sours Beer Flight.
Peaks and Pints Pilot Program: pFriem Fruited Sours Beer Flight
pFriem Frambozen
5.7% ABV
pFriem brews their Frambozen with a malt bill of Gambrinus Canadian Pilsner malt, Rahr unmalted wheat, and Rahr red wheat under aged whole leaf noble hops. With a lactic bacterial culture and Brett, plus red raspberries from Hoffman Farms in Sherwood, Oregon, then aged in French oak barrels, Frambozen arrives a deep fuchsia, pink foam-topped nectar with perfumy aromas of fresh fruit, and flavors of fresh jam, plus a tart, prickly finish.
pFriem Peche
5.8% ABV, 6 IBU
When pFriem adds juicy, heirloom peaches to their year-old Lambic-inspired ale, magic happens — they unite, gushing with bright acidity, nutty undertones and a tangy finish. It does take eight more months of aging, but it's well worth the wait. Gorgeous crest of dawn orange, topped with bright white foam fills the glass. Aromas of cantaloupe, bright acidity, and fuzzy navel follows with flavors of juicy ripe peach with a nutty undertone, and tart, tangy, and refreshing finish.
pFriem Bosbessen
6% ABV, 6 IBU
pFriem combines blend 1-, 2-, and 3-year-old lambic onto fresh Draper blueberries, grown just up the road from the Hood River brewery in Odell, at a rate of 3 pounds per gallon. They then added them to their established lambic at a whopping 2 pounds per gallon. The fruit and the lambic were then left alone to mingle for more than six months. Bosbessen's aromas of ripe fruit, white pepper and tobacco lead to a bright, jammy flavor that finishes as tart and tangy as the berries themselves.
pFriem Pruim
6.3% ABV, 6 IBU
This fruit-forward lambic-inspired ale has a modern plummy twist. You'll think it's grapefruit but really, you're cascading through juicy, sweet Brooks plums from their friends at Sherwood Orchards. Expect bright aromas of candied plums, white pedaled flowers, and a touch of grass, followed by tart flavors of lemonade, plum jam, berries, with hints of spice, nutty bread, and gummy candies. It finishes with lingering flavors of fresh plums, beautifully integrated, and ethereal.
pFriem La Mûre
6.49% ABV
pFriem mixes fresh Oregon blackcap raspberries and marionberries and let them mingle with their white wine barrel aged ale. La Mûre pours a mysterious black plum with a velvety heliotrope head. Enticing aromas of blackberry pie, roses, cedar and limoncello segue sweetly into flavors of pomegranate, acai, Cabernet, pine, and white pepper before a brightly acidic finish of lemon, earth, and wine.
pFriem Barrel-Aged Nectarine Golden Ale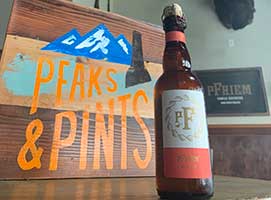 7.1% ABV
pFriem ages their Nectarine Golden Ale in fresh Napa Valley Sauvignon Blanc barrels before adding perfectly ripened Flavortop Nectarines, grown right down the road by their friends in Maryhill. After another six months of aging, the resulting aromas of nectarine marmalade, graham cracker spice, vanilla, wildflower honey, and citrus zest leap from the glass. Flavors of peach nectar, cantaloupe, Sauvignon Blanc, and raspberry sorbet shimmy across the palate. Lingering honeydew, luscious stone fruit, effervescent lemon, and a graceful tannic structure seal the deal.
LINK: Peaks & Pints cooler inventory
---
Category:
Beer Line Blog
,
Craft Beer
,
Critical Drinking
,
Events and Festivals
,
Houses of Craft
,
In The Cooler
,
Peaks and Pints Pilot Program
,
Proctor District
,
Shop
,
South Sound
,
Specials
,
Tacoma events