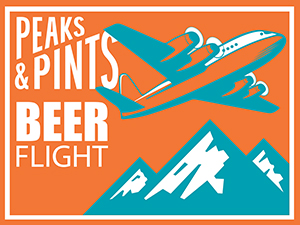 As the dog days of summer crest upon the beer world, a familiar collective roar gathers volume: Oktoberfest beer in August. The party began in October 1810, when a great horse race was organized to celebrate the marriage of Crown Prince Ludwig and Princess Therese of Saxe-Hildburghausen. Everyone had so much fun that it was held again, and eventually became an annual event, dubbed "Oktoberfest" in 1872. It has since evolved into a 16-day Munich blowout in late September and early October, when there isn't a pandemic or World War. The party has evolved into Oktoberfest beers being released in August. Oh, to be in that great mass of humanity, dancing to the throbbing polka beats, scarfing down sausage, kraut, and strudel, and most of all, imbibing from the holy grail … er, stein … while the sun beats down on us. While Peaks & Pints annual Fresh Hoptoberfest a little less than a month away we thought we highlight the early arrivals. Stop by our craft beer bar, bottle shop and restaurant and grab Peaks and Pints Pilot Program: August Oktoberfest Beer Flight.
Peaks and Pints Pilot Program: August Oktoberfest Beer Flight
Firestone Walker Oaktoberfest
5% ABV, 24 IBU
Firestone Walker Brewing's Oaktoberfest is a twist on the German Märzen bier — a Paso Märzen, if you will. Traditional imported malts offer subtle honey-like aromas with hints of Noble hop spice. The stars of this brew are the imported Pilsner and Vienna malts that offer malty sweetness that carry through to the end. German Hallertau hops add rich Noble hop character to balance this Märzen. Pro tip: This beer is 100 percent stainless steel and gets the name Oaktoberfest as an ode to their hometown, Paso Robles, Spanish for "Pass of The Oaks."
Ayinger Oktober Fest-Märzen
5.8% ABV, 25 IBU
Sweet and grainy on the nose — think of fresh bread baked with honey and raisin — Ayinger Oktober Fest-Märzen features a pronounced sweetness of caramel and caramelized pumpkin on the palate. Hearty, and even a bit creamy as it warms, Oktober Fest-Märzen features a touch of bitter hops and fresh straw upfront before veering into a long malty finish. However, the beer dries out nicely to avoid a sticky or cloying aftertaste. This beer pairs beautifully with our pretzel bread sticks and side of beer mustard. Gemütlichkeit is, of course, free as always.
Warsteiner Oktoberfest
5.9% ABV, 21 IBU
A truly German import brewed according to the German Purity Law, as are all Warsteiner beers, Warsteiner Oktoberfest pours a deep gold with a bit of sediment in suspension. It hits the nose with cracker, bready malts, and grassy hops. The mouthfeel is light to medium with a prickly carbonation. This special edition is well-balanced with flavors of cracker, biscuit, hint of citrus, and grassy hops.
LINK: Peaks & Pints cooler inventory
---