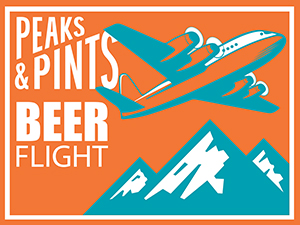 Peaks & Pints will host Beauty and the Beer, a fundraiser for Hunt Middle School Theater Department at 6 p.m. tonight, as part of Tacoma Beer Week. The goal is to help raise money for the kids to buy the rights to perform Beauty and the Beast. After New York Times critic Frank Rich called the 1991 animated film Beauty and the Beast that year's "best musical … in any format," Michael Eisner (then at the peak of his power as Disney CEO) wasted little time turning this "tale as old as time" into the Mouse's first Broadway blockbuster. Over the last two decades, the story has been staged almost nonstop in theme parks, touring houses, and middle schools around the world, including Hunt Middle School in Tacoma … hopefully. Hunt is worried it can't pay the fee to let their student body perform and watch an arrogant nobleman turn into a beast and, to break the spell, try to win the love of the village girl, Belle. Enter Peaks & Pints. We'll donate a percentage of draft sales that night so the theater kids can present one of the most magical tales of all time. As a bonus, local middle school instructors and musicians Rafe Wadleigh and Erina McLaren will perform Disney songs live while craft beer enthusiasts shed tears of joy into their beers. In celebration, Peaks & Pints presents a Beauty and the Beast to-go beer flight — a flight we're calling Tacoma Beer Week Flight: Beauty And The Beer.
Tacoma Beer Week Flight: Beauty And The Beer
E9 Brewing Petite Belle Grisette
4.1% ABV
Belle is the female protagonist of Beauty and the Beast. She is the only daughter of Maurice, an inventor with whom she resides in a small French village. The townsfolk labeled Belle an outcast because of her free spirit. What beer best represents Belle? Enter E9 Brewing in Tacoma's Historic Brewery District. Tacoma's oldest craft brewery's Petite Belle explores the obscure Franco-Belgian style, grisette, a type of farmhouse ale that dates to the late 1700s or early 1800s in southern Belgium. Petite Belle is brewed with Pilsner malt, along with wheat and flaked oats that give it somebody in what would otherwise be a very light beer. It's fermented with a saison yeast, which offers phenolic yeast character and hints of peppery spiciness, yet everything is kept light and subtle.
Abomination Social Distancing: Isolation
8.4% ABV
The Beast was a young prince who lost his father, and whose mother had to wage war to defend his kingdom. The queen left him in care of an evil fairy, who tried to seduce him when he became an adult; when he refused, she transformed him into a beast. Though his servants are still with him and dedicated to his comfort, the Beast isolates himself from them emotionally because of the guilt he feels for dooming them to their current form. As the movie continues, the Beast begins to look happier and healthier as he reaps the psychological benefits of significant social interaction. What beer best represents the Beast? Stone Abomination Social Distancing: Isolation, of course. Social Distancing: Isolation is a mashup of two of Abomination Brewing's favorite beers from the last two years — Social Distancing and Still Social Distancing for a juicy and dank hazy double IPA. Brewed with golden promise, wheat, and flaked oats, it's double dry hopped to the gills with Mosaic, Enigma, Nelson, Motueka, Strata, and Citra for all the citrus and pine.
Stone Arrogant Bastard Ale
7.2% ABV, 100 IBU
Gaston has no connection to Belle or her father, Maurice, and wants to marry her for a simple, reductive reason: He thinks she's the prettiest girl in town. He doesn't believe women should read — and doesn't see much point in his reading, either — and values his own brute strength over emotions or intelligence. He's used to getting what he wants, too; the townspeople indulge him because he is a war hero, and they're likely too scared to stand up to the local bully. Let us be blunt: Gaston is an arrogant bastard. What beer best represents Gaston? Stone Brewing Arrogant Bastard Ale, of course. It's less-than-amber but more-than-pale IPA with a little "oomph" in the malt and hops department. The malt profile of Arrogant Bastard, while not overwhelming, has a good backbone of caramel, rich, and somewhat raisin-bread type toasty flavors. It has more richness than your standard IPA. This malt body is balanced with a very aggressive-tasting hop treatment using the Chinook, giving it a West Coast citrusy bitterness, but also contains a richer, herbal, and maybe even a bit of a "rough" pungent element.
Urban South Beaming
4.81% ABV
After the Enchantress changed the Prince into the Beast, suave maître d' Lumiere and the Prince's other staff members were turned into household objects — a candelabra for Lumiere. What beer best represents the Lumiere? Urban South Brewery's Beaming fruited sour makes sense to us — not just for the shining bright reference, but also Lumiere had a beaming smile when Belle arrived at the castle. He and the crew realized Belle could be the one to break the spell. He even tries to make her feel welcomed with the musical number, "Be Our Guest." Urban South Brewery was founded in New Orleans in 2016 where it earned the title of largest craft brewery in New Orleans in just three years. Recognizing the deep connection between the cities of New Orleans and Houston, Urban South chose Houston as the destination for its first satellite location and opened Urban South – HTX in early 2020. Their Beaming fruited sour is conditioned on blueberry, strawberry, and raspberry.
Ex Novo Dynamic Duo
7.6% ABV, 99 IBU
As a human, Chip is a seven-year-old boy who works with Mrs. Potts in the Prince's kitchen. Like the other inhabitants of the castle, they were cursed by the Enchantress. When Mrs. Potts was transformed into a teapot, Chip was likewise transformed into a teacup. At the end of the film, once Bell and the Beast fell in love, they were magically restored to their human forms. Ex Novo Brewing's Dynamic Duo Imperial IPA seems to fit this scenario. The double IPA burst on the scene in July 2015 with an ambitious and exciting goal: to provide an extremely drinkable IIPA and to provide a canvass to showcase different hop combinations. The concept was simple: keep the target specs the same and the malt profile nearly the same and pick two different hops in combination each time they brewed it. This version is brewed with Citra and Southern Passion for notes of passionfruit, grapefruit, and berries.
LINK: Peaks & Pints cooler inventory
---
Category:
Beer Line Blog
,
Craft Beer
,
Critical Drinking
,
Events and Festivals
,
In The Cooler
,
Peaks and Pints Pilot Program
,
Proctor District
,
Shop
,
South Sound
,
Specials
,
Tacoma events