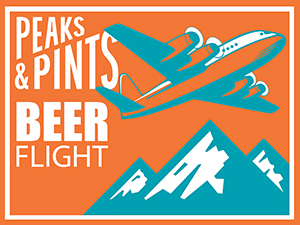 Seattle native Josh Pfriem began homebrewing while at Western Washington University in his early 20s then moved to Utah as a ski bum. He worked at Utah Brewers Cooperative for a few years before moving back to his old college town of Bellingham to brew at Chuckanut Brewery, where he helped win the Great American Beer Festival Small Brewpub of the Year in 2009. He moved to Hood River, Oregon to work at Full Sail but left in December 2011 to open pFriem Family Brewers — across the highway from Full Sail along the banks of the Columbia River — in August 2012. The brewery prides itself on its strong family focus and community involvement, as well as its ingredients — while many craft brewery websites list the notable spices and hops used in their brews, none we've encountered boast the encyclopedic cataloging of every ingredient the way pFriem does. A tour through the barrel warehouse provides a glimpse of what pFriem Family Brewers is stockpiling for its future. Hundreds of barrels — barrels that once held bourbon, wine, gin, rum, you name it — sit stacked tall to the ceilings. Those barrels are the focus of today's Peaks and Pints Pilot Program daily to-go beer flight. We suggest taking these three pFriem barrel program stars home as our flight, Peaks and Pints Pilot Program: pFriem Barrels Beer Flight.
Peaks and Pints Pilot Program: pFriem Barrels Beer Flight
pFriem Maple Barrel Aged Smoked Porter
9.1% ABV, 45 IBU
pFriem porter is made with smoked malt brewed to high strength, then aged in barrels first used for bourbon, then maple syrup, and finally this Maple Syrup Barrel Aged Smoked Porter. It's potent, smoky, and rich, with the aroma of syrup you'd drizzle on a stack of flapjacks, followed by notes of pecan pie baking in a wood-fired oven, rich toffee, and dark chocolate delight the palate before giving way to a decadent finish.
pFriem Rum Barrel Aged Porter
9.5% ABV, 45 IBU
pFriem ages their Imperial Porter for a year in barrels kissed by the Caribbean rum barrels, giving pFriem's Rum Barrel Aged Porter black walnut with ruby red hues sitting beneath the dense khaki foam. Seductive aromas of Belgian chocolates, cinnamon, nutmeg, red velvet cake, and molasses hit the nose. Expect luscious flavors of vanilla bean, chocolate truffles, rum cake, ripe cherries, and Mexican hot cocoa with a soft, round, and decadent finish.
pFriem Bourbon Barrel Aged Imperial Stout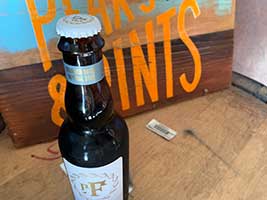 11.5% ABV
pFriem's Bourbon Barrel Aged Imperial Stout absorbs the tannins of Oola Distiller's Bourbon barrels for a full year, resulting in a midnight black color topped with a dense, creamy, and chocolate mousse foam. Powerful aromas of cocoa, caramel, coconut, toasted oak, and chocolate covered berries hit the nose, followed by big flavors of ripe cherries, red velvet cake with a hint of char and a touch of Bourbon. It finishes with a kiss of oak tannins and a mouth coating richness.
LINK: Peaks & Pints cooler inventory
---