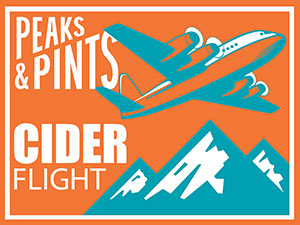 Blueberries. Who doesn't love them? When we can keep the birds from eating the fruit, blueberries are one of the most rewarding edibles in the garden. They don't take up a huge amount of space, and they are easy to grow in our area, given sun, acid soil, and plenty of water. And the plants are beautiful. To top it off, raw blueberries are among the most nutrient-rich plant foods available — low in calories and loaded with plant nutrients such as soluble fiber, minerals, vitamins, and antioxidants. Most importantly, crisp, sweet blueberries balanced with tangy cider apples makes for a thirst-quenching beverage. Every Monday, Peaks & Pints presents a to-go cider flight. Can you guess what flavor it will be today? Stop by today and grab Peaks and Pints Monday Cider Flight: Blueberry Cider.
Peaks and Pints Monday Cider Flight: Blueberry Cider
Newtopia Bludacris
6% ABV
Newtopia Cyder co-founder and cyderist Rick Moreno got his start in the industry as co-owner of beer bar Toronado in Seattle. Cyder, the old English spelling, is co-owned by his wife, Jennifer Hays Moreno, who met Rick while working in the health care industry. The San Diego cidery sources apples and other fruits in nearby Julian and Temecula, and as far away as Santa Cruz, Hood River, and Yakima. Rick developed his cider chops in his garage, then apprenticed with Newtopia's "master cyderist," Rusty Figgens, a member of the family that founded Washington's famed Leonetti Cellar, who also knows his way around a distillery. Their Bludacris is a blueberry and Meyer lemon cider crafted with Newtopia's proprietary blend of five West Coast apples: Fuji, Gala, Honey Crisp, Red Delicious, and Granny Smith.
Alter Ego The Guardian Angel
6.5% ABV
Friends and winemakers Anne Hubatch, Nate Wall and Kris Wall decided to partner to craft artisanal ciders utilizing winemaking techniques at an urban ciderhouse, and Alter Ego Cider was born. Anne has been at the forefront of urban winemaking with Helioterra Wines, Whoa Nelly Wines and Guild Winemakers. Nate also has several years of winemaking experience, but additionally has been making cider for the past three years for one of the Northwest's largest cider producers. Anne and Nate bring a winemakers focus on nuance, delicacy, and depth to their small batch production cider. Their blueberry and pomegranate cider, The Guardian Angel, celebrates Northwest summer berries. It offers deep garnet purple color, brambly berry notes and fresh fruit characteristics of both the apple and blueberry, with hints of pomegranate added for a zippy kick. This cider is semi sweet, and perfectly balanced and refreshing.
Tieton Blueberry Cider
6.9% ABV
Tieton Cider Works has been growing apples in the Yakima Valley for three generations. Craig Campbell's grandfather planted apple trees in the 1920s, but it was until 2008 when he and his wife, Sharon, began growing cider apples on their Harmony Orchards in Tieton, Washington. They launched Tieton Cider Works in 2009, with the intent to maintain their practices of being good stewards of the land. The Campbells pick blueberries from Washington's rich volcanic soils for their Blueberry Cider. Crisp sweet blueberries upfront balanced with tangy cider apples makes for a thirst-quenching beverage.
2 Towns Blueberry Cosmic Crisp
8% ABV
2 Towns Ciderhouse's Cosmic Crisp apple is the work of 20 years of study and research by Washington State University, resulting in a classically bred hybrid of Enterprise and Honeycrisp apples. The resulting fruit is a large, round, crisp, and super juicy apple that is perfect for snacking, baking, and, perhaps most importantly, cider making. Crafted from a resplendent blend of fresh-pressed juice from its namesake, Cosmic Crisp, and other Northwest apples, 2 Towns' cider shines with strong notes of white currant and pineapple blossom from a platinum-colored cider that is as crisp and sparkling. Blueberry Cosmic Crisp is an amped-up rendition of Cosmic Crisp crafted with Northwest blueberries and Cosmic Crisp apples, for a juicy, sweet yet off-dry cider.
Channel Marker Blueberry Lemon
8% ABV
Nestled between the lush Cascade Mountains and the salty Puget Sound, the maritime climate and adventurous spirit of Seattle provides the inspiration for Channel Marker cider recipes. And They source, forage, and grow many of our ingredients from around the Sound — their backyard. Their Blueberry Lemon is made with fresh Northwest blueberries from Sultan, Washington, and blended with lemon juice for a lovely, sweet cider.
LINK: Peaks & Pints cooler inventory
---