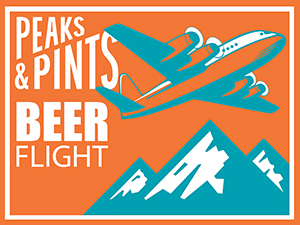 Geoffrey Barker and Andrew Pogue met as members of the North Seattle Home Brew Club. They both love saisons and sours. They traveled to mixed-fermentation guru Jester King in Austin, Texas, where they added to their friendship circle. The duo spent years looking for a place to launch their brewery. Eventually they landed in a former home of an orchid retailer, a boxy, lightly industrial building at 936 Northwest 49th Street, in the thick of Ballard's brewery district. With the help of Jester King, Barker and Pogue opened Fair Isle Brewing in January 2020 focusing on mixed-culture and wild beers, such as saisons, grisettes, bier de garde, farmhouse and American-style sour beers. Today, Peaks & Pints presents a to-go flight of Fair Isle beers — a flight we're calling Peaks and Pints Pilot Program: Fair Isle Beer Flight.
Peaks and Pints Pilot Program: Fair Isle Beer Flight
Fair Isle Paulie
4.8% ABV
Paulie is an exploration of an English inspired pub beer subjected to the voracious appetite of Fair Isle's house culture of wild and feral yeasts and bacterias. Brewed with roasted and cara malts, Paulie departs from their typical saison grist profile — bringing a whole new canvas of aromas and flavor notes via this dark saison more closely aligned with a schwarzbier.
Fair Isle Fay Fuller
5.2% ABV
Not named after China Davis band's frontman Ben Fuller's wife, Fay, but rather Fair Isle's Fay Fuller gives a nod to the first known woman to climb Mount Rainier. Evelyn Fay Fuller (Oct. 10, 1869-May 27, 1958) was an American journalist, mountaineer, and schoolteacher. In 1890 she became the first woman to reach the summit of Mount Rainier. Fair Isle's Fay is a dry saison with notes of grapefruit pith, mango, and herbs.
Fair Isle Mei Zi
6.3% ABV
Fair Isle has been experimenting with different tea variety infusions in their saisons. With the help of Miro Tea in Seattle's Ballard neighborhood, the brewery played with pilot small batches to assess what aromas can be coaxed out of steeping with specific tea varieties — factors including temperature, steeping time, and selection of the base beer — especially the stone fruit and tart, floral characteristics of Miro's Plumrose Oolong paired with some of their softer oak-aged stock ales. Méi Zi starts with a carefully selected blend of leaner oak-aged beers, and then steeped with the Plumrose Oolong and a dash of Licorice Root tea for a hint of anise-like complexity. Notes of watermelon hard candy and strawberries lead the way, with nectarines following in the mid-palate and a decidedly herbal component in the finish.
Fair Isle Eugene
7.1% ABV
Eugene is a farmhouse IPA utilizing the leftover highly aromatic hop slurry from their Bobbi hoppy saison, and then dry-hopped with rotating varieties each batch. This version features Amarillo and Motueka for punchy notes of navel orange and lime leaf, followed by a brisk finish with refreshing tartness.
LINK: Peaks & Pints cooler inventory
---