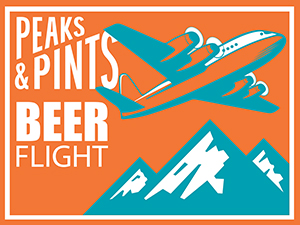 Peanut butter helps, at least for Peaks & Pints. One of the world's most versatile and delicious ingredients, peanut butter isn't just something to slap between two slices of white bread, its satisfying flavor reaches into your soul. Like a dog working through a spoonful of peanut butter, it sticks. Peanut Butter sticks to stress, disappointment, failure, and confusion and can eliminate them much like it can remove crayon off wallpaper or the hiccups. In times like these, we're thankful for peanut butter, including its presence in craft beer. The Peaks & Pints bush plane landed on North 26th Street in Tacoma's Proctor District to deliver several new peanut butter beers for our cooler. Stop by before 10 p.m. for our to-go Peaks and Pints Pilot Program: Peanut Butter Beer Flight and find comfort on a holiday Sunday. Cheers!
Peaks and Pints Pilot Program: Peanut Butter Beer Flight
Belching Beaver Peanut Butter Milk Stout
5.3% ABV, 30 IBU
It's a little red can with a cute beaver on the label but this San Diego-brewed, 2014 World Beer Championships silver medalist Belching Beaver Brewery milk stout hits a nostalgic note: Peaks and Pints remembers how good a creamy peanut butter sandwich tastes with a glass of milk. That same luscious, nutty peanut butter flavor flows alongside coffee creamer richness; slight coffee roast and peanut butter on our noses before a lightly roasted, bitter finish.
Wild Ride Nut-Crusher Peanut Butter Porter
6% ABV, 18 IBU
Let's talk love. Peanut Butter. It transports us to a happier, simpler age. It's not a candy thing. It's a comfort thing. Redmond, Oregon's Wild Ride Brewing brings together two favorite flavors — peanut butter and porter — in this liquid chocolate truffle treat with a strong nuttiness. Nut Crusher is a beer that's almost as fun, if not more fun, to sniff for a while before actually drinking it. You'll eventually drink it because, like us, Peanut Butter Cups are your life.
Deschutes Peanut Butter Obsidian Stout
9% ABV, 40 IBU
This beer is inspired by peanut butter whiskey drinkers, where Deschutes Brewery has crafted a barrel-aged version of their classic Obsidian Stout brewed with peanut butter and milk sugar striving for the creamy Jiff flavor. But far beyond just adding the dessert stout element, they also blended in a whiskey barrel-aged stout to add complexity, strength, vanilla tannings, and spiciness. On the tongue, the peanut butter and whiskey are in balance. We taste both simultaneously. Peanut butter and whiskey are pretty much classic Americana products at this point, so what better delivery mechanism then a traditional American stout.
Great Divide Peanut Butter Yeti
9.5% ABV
Great Divide Brewing's Yeti imperial stout make a solid base beer due to its complex malt bill for adjuncts, such as peanut butter. It conquered our nose with creamy peanut butter, toasty malts, roasted nuts, dark milk chocolate, and even semi-char wood. On the tongue, roast leads with dark toast and nutty malts, as well as peanut butter, caramel, chocolate, and that semi-char wood again.
Bombastic Pandemonium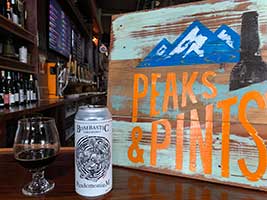 10.5% ABV
Phil Hottenstein, a railroad engineer, and Russell Mann, former owner of the Enoteca wine and beer shop in Post Falls, Idaho, and Matt Skillicorn, a mechanical engineer and homebrewer opened Bombastic Brewing after Mann sold the store. The brewery began on a half-barrel (15-gallon) pilot brewing system at the Panhandle Area Business Council incubator near the Hayden, Idaho airport. Their Pandemonium imperial stout is brewed with peanut butter, marshmallow, and vanilla to simulate fluffernutter flavors, but expect more fluff than nutter.
LINK: Peaks & Pints cooler inventory
---