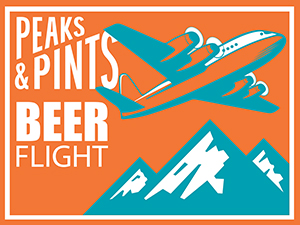 After sharing their different and experimental variations of saisons working as gypsy brewers, brothers Chase and Colin Healey decided it was time to have a brewery of their own. They raised more than $20,000 on Kickstarter with the help of fans and formed Prairie Artisan Ales in Tulsa, Oklahoma, in 2012. Chase Healey grabbed the brewhouse while his brother is the talent behind the fun, funky branding, and logo design. Together, they brought a unique perspective to brewing — especially big bold barrel aged stouts and super crisp and funky farmhouse ales. Today, Peaks & Pints presents a to-go flight of Prairie Artisan Ales beers — a flight we're calling Peaks and Pints Pilot Program: Prairie Beers On The Fly.
Peaks and Pints Pilot Program: Prairie Beers On The Fly
Prairie Millennial Mansion
7.7% ABV
Millennials, also known as Generation Y or the Net Generation, are the demographic cohort that directly follows Generation X are are individuals born between 1982 and 2004. Having been raised under the mantra "follow your dreams" and being told they were special; Millennials tend to be confident. Prairie Artisan Ales Millennials Chase and Colin Healey followed their dreams and are confident you'll enjoy this imperial fruited sour brewed with orange peel, lemon peel, lime, blueberry, cherry, and marshmallows. It's smooth, creamy, tart, and dry.
Prairie Buntastic
12.2% ABV, 65 IBU
Prairie Artisan Ales resident barkers, Paula and Cara, offered their carrot cake recipe for this carrot cake inspired imperial stout brewed with — wait for it — actual carrot cake. The stout smells like carrot cake. All the elements are there: cake batter, carrots, cinnamon, even a creamy buttercream icing aroma, with undertones of chocolate and roast. The taste follows with bold cinnamon and raisin up front, followed by cake batter, carrots, and a sweet vanilla buttercream finish. We also get undertones of chocolate, buttercream, and cinnamon. Nail it!
Prairie Pirate Weekend
13% ABV
Hemingway drank it in doubles and Bluebeard pirated the seven seas fueled on the stuff. It's rum, and it's having its way with Prairie's Pirate weekend imperial stout via barrels. Rum barrels soak up all that yummy, distilled sugar cane goodness for an aroma that is pure dark rum and flavor laced with sweet vanilla and spice notes. This rum barrel-aged beauty is also brewed with cacao, coconut, and marshmallow. The result is strong rum and dark chocolate smell and taste with the coconut and marshmallows shining through with warming.
Prairie Bomb!
13% ABV, 65 IBU
Prairie Artisan Ales' Bomb! is an imperial stout aged on Nordaggio's espresso beans, chocolate, vanilla beans, and ancho chile peppers. It hits the nose with cocoa, vanilla, coffee, chili peppers, and roast. Taste is sweet, chocolate, vanilla, warming chili, coffee initially subtle but comes through much more as it warms, roast malts, and at 13 percent the alcohol is well integrated. It's dangerously easy to drink.
LINK: Peaks & Pints cooler inventory
---