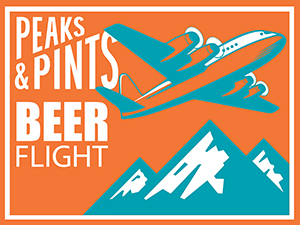 You've just finished a pairing of Peaks & Pints' flagship Roastmary sandwich of roast beef, smoked Gouda, red onion, and rosemary mayonnaise on rye paired with AleSmith's Nut Brown Ale, and you're considering desserts. You can't wait to revisit Peaks' chocolate chip cookie. The bartender approaches your table. Instead of the cookie you're served a tulip glass full of sweet tart liquid. "What's this?" you inquired through your protective mask. "It's a pastry sour," explains the bartender. Who couples Brettanomyces, Lactobacillus, or Pediococcus with a boysenberry pie? Increasingly, the answer to that is, "many brewers" — from Mason Ale Works, to Wild Barrel, to Omnipollo, to hometown hero Sig Brewing. Today, Peaks & Pints presents a to-go flight of dessert sours that we're calling, Peaks and Pints Pilot Program: Pastry Sours On The Fly.
Peaks and Pints Pilot Program: Pastry Sours On The Fly
Fat Orange Cat Walk On Water
5.5% ABV
Fat Orange Cat Brew Co. is a small, seasonal farm brewery in East Hampton, Connecticut. They specialize in small batch recipes — making an effort to support and promote local agriculture. Fat Orange Cat's Walk On Water, a collaboration with Skygazer Brewing, is a fruited sour ale with marshmallow, banana, strawberry, passion fruit, mango, and pink guava. It's a smoothie sour. It's a pastry sour. It's a tart sour. It's fruity, for sure.
Skygazer Watercolors Creamee
5.5% ABV
In March 2019, Skygazer Brewing Company opened its doors in North Haven, Connecticut. The two founding partners — Taylor Pilewski, of Wallingford, and Erik Tynik, of Bristol — have since parted ways with Pilewski carrying on the Skygazer name. Their Watercolors Creamee series is modeled after LifeSavers Creamsavers. Skygazer takes their fruited Watercolors base formula and sends it over the top with a huge addition of cream. The end result is intense and jammy fruit explosions that finish with massive whipped cream flavors — in this case, mango, orange, guava, marshmallow cream, and milk sugar.
Sig Cotton Candy Dream
5.8% ABV
In spring of 2020, Duncan Susag, brother Alex Susag, and cousin John Samuelson opened Sig Brewing on the edge of Tacoma's Historic Brewery District, along Tacoma Avenue South in the building formerly occupied by Duncan's concrete design firm, Studio Make. Head brewer Jeff Stokes has been cranking out delicious craft beers, including smoothie sour Cotton Candy Dream brewed with cotton candy floss, a huge amount of strawberries, and lactose. Expect notes of bubblegum, strawberry, cotton candy, and Katy Perry.
Claim 52 Chonk Stuffed — Fruity Cereal
6.5% ABV
In 2012, Mercy McDonald, Jeannine Parisi and Trevor Ross opened Claim 52 Brewing in West Eugene. Today, under the guidance of head brewer Bryce Fiasher, they specialize in European-style, super-small batch beers made in the Northwest tradition, as well as exceptional hazy IPAs, and crazy dessert sours. Their latest dessert sour, Chonk Stuffed — Fruity Cereal, is a collaboration with Drekker Brewing out of Fargo, North Dakota. It's conditioned on sweet cherry, raspberry, orange, lime, lemon, vanilla, and fruity cereal.
Wild Barrel Razzleberry Pie
8.4% ABV
Wild Barrel Brewing opened Autumn 2017 in San Marcos, California, in a building it shared with SoCal Batting Center. With an ownership team including craft-beer ambassador Bill Sysak and former Cascade Brewing master blender Pretson Weesner, this brewery is known for their "Vice" series of fruited kettle sours, a constantly rotating selection of West Coast and Hazy Juicy IPAs, and pastry sours such as Razzleberry Pie with raspberries, blueberries, blackberries, lactose, and vanilla beans.
450 North Super-Size Shaggy Marshmallow Sandwich
NA ABV
Peaks & Pints doesn't know if the Columbus, Indiana 450 North Brewing houses a bunch of stoners, but the OG of smoothie style beers sure digs those crazy cartoon kids since many of their beers are named after the antics of Fred Jones, Daphne Blake, Velma Dinkley, Shaggy Rogers, and Scooby-Doo. Housed in a 32-ounce can, Super-Size Shaggy Marshmallow Sandwich fruited sour is brewed with double marshmallow, peanut butter, cara cara orange, peach, banana, vanilla, and lactose.
LINK: Peaks & Pints cooler inventory
---