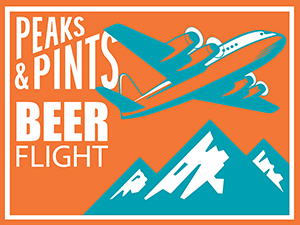 Damn, it's going to get steamy out there today. When it's this hot, Peaks & Pints only has two solutions … Unfortunately, the Proctor Business District prefers us to wear clothing, so number one is out. Number two: drink IPAs with papaya notes until it cools off. If you taste a papaya straight from its thick green-yellow-orange skin, you'll find a taste that is somewhere between vomit and a rotten cantaloupe. And those slimy looking black seeds that dot the hollow interior taste of potent mustard seed and gassy fermented cabbage. But, papaya in beer is quite lovely. We suggest four papaya-ish IPAs from our cooler in our to-go flight, Peaks and Pints Pilot Program: Papaya On The Fly.
Peaks and Pints Pilot Program: Papaya On The Fly
Fremont Head Full of Dynomite v22
6.8% ABV
Fremont Brewing excels at hazy IPAs, especially commanding the actual opaque, dense colored quality of the hazy to bloom, making for an incredible visual treat. Lots of fruit flavor, especially in its Head Full of Dynomite series, which version 22 is in the cooler at Peaks and Pints. This version is brewed with Simcoe, Simcoe Cryo and a hop oil blend for lemons, flowers and papaya.
Baerlic Future ISMS
8% ABV
"In honor of all the great things to come in the New Year, we brewed up a totally tubular Double Hazy," states Baerlic Brewing's website. Indeed. Brewed with a malt bill of Weyermann Pils, wheat, oat malt and oats, then tumbled with El Dorado and Strata hops, Future ISMS sports a creamy body popping of overripe papaya, rock concert cannabis and sweet candy.
Worthy Saturn Gold
5.2% ABV, 30 IBU
Founded in 2012 by Roger Worthington and located in Bend, Oregon, Worthy Brewing is an advocate for the environment, a promoter of science education, all about cycling and music, and serious about beer. Their Saturn Gold hazy IPA sports complex aromas of papaya, orange, and lemongrass thanks to a blend of hops from Germany, New Zealand, and Oregon.
Short Throw Mutual Respeck
8.2% ABV
Short Throw Brewing's Mutual Respeck is a hazy double IPA adorned with the bountiful aromatics of Cashmere and Citra hops, dry-hopped with the same varietals. Expect notes of mango, papaya, guava, and oranges, all riding on an extremely drinkable and unobtrusive base.
---