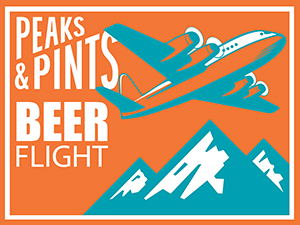 Casey and Laura Ruud purchased the floundering Winthrop brewery in 2008, changed the name to Old Schoolhouse Brewery, cleaned it up, and quickly turned it into an award-winning gem of a brewpub. Life happens, and the Ruud's sold the brewery to three gentlemen who grew up in New Hampshire together, brothers Nathan and Jacob Young and Troy Anderson. Jacob and Nathan knew restaurants and bars inside and out. Troy coached high school track with Jacob and worked at Microsoft with Nathan. All three enjoy the outdoors, which is almost mandatory since the riverside brewery and gastropub is in Winthrop, which sits east of Mazama and north of Twisp in Okanogan County. Old Schoolhouse Brewmaster Kyle Koger, who worked his way up at the brewery, is responsible for taking the brewery to the next level — integrating the art and science of brewing beers with the medals to prove it. Today, Peaks & Pints presents a to-go flight of Old Schoolhouse beers — a flight we're calling Peaks and Pints Pilot Program: Old Schoolhouse Beer On The Fly.
Peaks and Pints Pilot Program: Old Schoolhouse Beer On The Fly
Old Schoolhouse Betty Mopper
6.9% ABV, 35 IBU
This crisp and delicious IPA is the second in Old Schoolhouse's series inspired by the classic Heady Topper, Alchemist's OG of New England IPAs. Brewed with Mosaic, Azacca Cryo, Loral Cryo and Idaho 7 hops, Betty Mopper is a light bodied hazy IPA with notes of mango, orange, and other tropical fruit.
Old Schoolhouse Between Peaks IPA
7% ABV
Peaks & Pints answered the morning School bell, traveled past 101 mountain peaks, and brewed our new house beer, Between Peaks IPA, at Old Schoolhouse Brewery in Winthrop, Washington. As we approached the town of Winthrop, Pinyon Pines, Bristlecone Pine, and Ponderosa Pine trees were swaying in the wind between the peaks. Between Peaks West Coast-style, old school IPA is aggressively hopped with Simcoe, Simcoe Cryo, Chinook, Cascade Cryo, and HBC 638 hops and bursting with flavors of pine and subtle citrus, loaded with mounds of hops, and balanced with a blend of four different malts. Like those welcoming pine trees, each pint of Between Peaks is like a pine bough swaying across your face.
Old Schoolhouse Fresh Corduroy
7.5% ABV
When ski resorts groom trails overnight, the snowcats leave behind a pattern of small ridges in the snow that are reminiscent of corduroy fabric. Fresh corduroy is generally smooth and predictable, so it is a favorite of skiers who like to ski fast or "rip corduroy." Old Schoolhouse's Fresh Corduroy is an unfiltered West Coast IPA dry-hopped with the Holy Trinity of hops — Simcoe, Citra, and Mosaic — for a juicier version of the style.
Old Schoolhouse Rotor Wash
7.6% ABV, 70 IBU
Two years ago, the premier heli-skiing operation North Cascade Heli fired up the helicopter to commence its 30th-season of guiding skiers and snowboarders in Washington state's rugged North Cascades. Based out of Mazama in the upper Methow Valley since 1988, North Cascade Heli is among the longest running guided heli-skiing operations in North America and the only one serving Washington State. To celebrate 30 years of powder, Old Schoolhouse Brewery crafted Rotor Wash IPA, a special heli-skiing-themed seasonal microbrew. "This winter-style IPA is brewed to be the perfect sipper as snow piles up in the Cascades," said Jacob Young, Old Schoolhouse co-owner in a press release. "This has a true malt backbone, a clean mouthfeel, and is amber in color. We included some experimental 522 hops, as well as Chinook to provide a classic bitterness, while Simcoe, Amarillo, and Azacca Cryo add fruit characteristics. Malty notes and bitterness vie for attention while the creative hop additions round out Rotor Wash IPA to be your go-to post shredding brew."
Old Schoolhouse Melipona
8.5% ABV, 40 IBU
Lesson: The stingless Melipona bee is the famous vanilla pollinator cultivated by the Mayans more than 3000 years ago. Old Schoolhouse honors its namesake with copious amounts of Mexican vanilla pods, Ceylon cinnamon and Blue Star Coffee Roasters cold brew for a rich and creamy imperial stout with complex notes of chocolate, licorice, vanilla, and a finish that hints of spicy cinnamon. Drink this stout while arguing that Mel Gibson's barbaric Mayan civilization film Apocalypto isn't required for history class.
Old Schoolhouse Kief Box IPA
8.5% ABV, 70 IBU
Kief boxes, also called pollen sifters or kief tumblers, are the best devices for extracting kief out of your cannabis bud. It's also a delicious IPA. A collaborative brew between Old Schoolhouse Brewery and Yakima Chief-Hop Union, this dank West Coast style IPA is brewed with massive amounts of Simcoe, Citra, and Mosaic cryo hops. The nose is floral; the taste is hoppy, spicy, and bitter. Drink this freakin' delicious beer because you can do whatever you damned well please.
LINK: Peaks & Pints cooler inventory
---