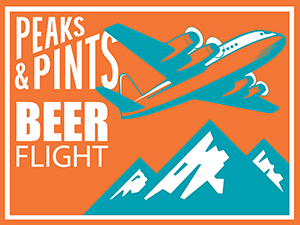 In 2006, Jeff and Chris Althouse were the only employees at their newly founded Willamette Brewery in Eugene, Oregon. The Althouses brewed 300 barrels that year, far short of what they'd eventually brew after 2008 when they converted Willamette Brewery into Oakshire Brewing. In 2017, Dan Russo became lead brewer managing Oakshire's collaborative production team of seven and overseeing the Pilot, Vintage and Core Seasonal programs. Russo remains Oakshire's longest-tenured employee of the 28 people currently employed at the community-inspired, small-batch brewing company. Oakshire has included Peaks & Pints on their Dark Days of February Northwest tour. Tonight, Peaks will pour their four dark and delicious Dark Days beers — Hellshire XII, Heart Shaped Box, Overcast Café, and Visit Munich, plus their Shred Kindly Hazy Pale Ale — before they head to Astoria for Fort George Brewery's Festival of Dark Arts and beyond. In celebration, Peaks & Pints presents a to-go flight of Oakshire beers — a flight we're calling Peaks and Pints Pilot Program: Oakshire Beer Flight.
Peaks and Pints Pilot Program: Oakshire Beer Flight
Oakshire Theme From the Bottom: Aunt Linda's Fruit Cake
5% ABV
Part of Oakshire's Theme From the Bottom smoothie sour series, Aunt Linda's Fruit Cake is an imperial sour brewed with oats and wheat for a soft and pillowy mouthfeel. Fermented with their house ale strain, Oakshire adds marshmallow cream, vanilla beans, and signature fruit cake spices of nutmeg, ginger, and cinnamon. After conditioning, they add apricot, cherry, cranberry, and pineapple.
Oakshire Fruit Farm Pinot Noir
7.2% ABV
Fruit Farm Pinot Noir starts as a blend of mixed-culture ales fermented entirely in oak barrels before being racked onto fragrant Iris Vineyards Pinot Noir. The beer matures and melds with the fruit resulting in a sparkling purple elixir that bursts with aromas of fresh-pressed berries. The taste of jammy preserves elicits carefree emotions and combines with the complex tannin structure and drying acidity to weave an intricate web of flavor, mouthfeel, and aroma across all the senses.
Oakshire Visit Munich
8.1% ABV
Doppelbock is a German beer style that was first brewed in Munich by Paulaner monks. As the name might suggest — doppel translates as double — this style developed as a slightly stronger version of traditional German bock style. Oakshire's version, Visit Munich, is strong, dark German-style lager cold-conditioned near-freezing temperatures for four months for an incredible sweet malt profile and a deep amber color.
Oakshire Overcast Café: Mexican Mocha
8.2% ABV
Eugene's overcast skies inspired Oakshire's Overcast Espresso Stout, a dark and smooth oatmeal stout blended with cold brewed coffee, offering a full palate of roasted malts, chocolate, and espresso. Overcast Café: Mexican Mocha is the first variation of Oakshire's "Café" limited series, an imperial version of Oakshire's classic Overcast stout with added vanilla, cocoa nibs, cinnamon, and peppers — reminiscent of a delicious Mexican mocha.
Oakshire Hellshire XII
13.5% ABV
Oakshire released its first Hellshire, an American barleywine aged 10 months in Heaven Hill Bourbon barrels, in April 2011. The following year, Hellshire became a bourbon barrel-aged imperial stout like the recently released Hellshire XII, an imperial stout aged in Elijah Craig 12 Year Bourbon barrels for rich bourbon and chocolate vibes.
Oakshire Heart Shaped Box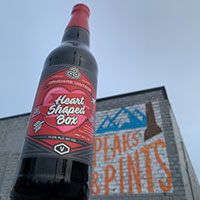 14.5% ABV
Inspired by candy shared on Valentine's Day, this 2023 version of Heart Shaped Box barrel-aged imperial stout begins as a massive imperial oatmeal stout. After fermentation, the stout is laid in freshly dumped Kentucky bourbon barrels from Heaven Hill Distilling. After resting for a year, Oakshire selects from the barrels a blend featuring notes of deep chocolate and strong bourbon. The beer receives a generous helping of vanilla beans, cocoa nibs, and coffee roasted by Farmer's Union. Finally, a dose of raspberry puree helps emulate the hand-dipped confections.
LINK: Peaks & Pints cooler inventory
---
Category:
Beer Flight
,
Beer Line Blog
,
Craft Beer
,
Critical Drinking
,
Events and Festivals
,
Houses of Craft
,
In The Cooler
,
News and Updates
,
Peaks and Pints Lodge Meetings
,
Peaks and Pints Pilot Program
,
Proctor District
,
Shop
,
South Sound
,
Specials
,
Tacoma events
,
Taps Takeovers