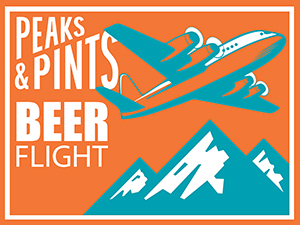 Nut brown ales may not get all the attention the hazies receive. However, the style certainly deserves credit for introducing many to craft beer. Nut browns celebrate the pleasures of malt, so much that they are often considered a gateway for nascent beer enthusiasts. They've certainly lured many away from a life of drinking homogenous macros. The nut brown ale is a style known for its maltiness, with little or no hop aroma. A British classic, nut brown ale contains nary a nut. The name is derived from this medium-bodied beer's use of toasted malted barley as opposed to roasted malt — giving the style its telltale nutty color and flavor. Broader speaking, the brown ale style has been around for a long time, and is often attributed to having evolved from its darker cousin, the porter. Today, we offer a to-go flight of nut browns — a flight we call Peaks and Pints Pilot Program: Nut Brown On the Fly.
Peaks and Pints Pilot Program: Nut Brown On the Fly
 AleSmith Nut Brown
5% ABV
Brown ales are a natural match for winter drinking, and AleSmith Brewing Nut Brown fits the bill. Deep mahogany in color, its rich, malt-forward flavor profile balances notes of toasted nuts, creamy cacao and a hint of vanilla. A creamy mouthfeel and full body enhance its drinkability, making Nut Brown an extremely sessionable winter sipper that's not as heavy a winter warmers.
Samuel Smith's Nut Brown Ale
5% ABV, 31 IBU
Truly one of the best brown ales in the world; this is the cast and mold for lots of brewers trying to come up with a nut brown ale. Samuel Smith's Nut Brown Ale's aroma is subdued overall, showing only malted barley-related aromas of light caramel, soft red apple and a gentle walnut component. The flavor is a study in drinkability, as nothing about it dominates the palate. Toasty and robust, hints of almond and cocoa powder overwhelm the palate and a touch of burnt coffee lingers after every sip. By the way, nothing goes better with this brew than one of Peaks and Pints' warm chocolate chip cookies.
Machine House Nut Brown Ale
5.5% ABV
Machine House Brewery, founded in Georgetown in 2013, brews excellent cask ales, which are naturally re-fermented in the serving vessel and therefore don't carry the hefty artificial fizz of most modern beers. The cool "cellar temperature" they're served at also means these beers aren't ice-cold, which can put off unfamiliar drinkers but also allows fuller flavors and aromas to express themselves. That's all fine and dandy, but Peaks and Pints also has their Nut Brown Ale in our cooler. Smooth, flavorful, with the appropriate hop and roasted malt for the style, this ale reminds us of cracking open a freshly baked loaf of pumpernickel bread before a holiday meal.
LINK: Peaks & Pints cooler inventory
---