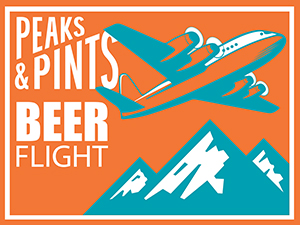 Hitting the scene in the early 2010s, the New England-style IPA came to fame thanks to a Vermont brewery, The Alchemist, with Heady Topper, an unfiltered double IPA that became a cult favorite. The beer was a success, and other New England breweries soon followed suit: namely Hill Farmstead Brewery, also in Vermont, along with Trillium Brewing Company and Tree House Brewing Co., both in Massachusetts. Call them hazy, New England or Northeast style; they're all the rage. Though loaded with hops, these small-batch brews tone down the bitterness by using milder varieties like Citra and Mosaic, and adding them late in the brewing process. Unfiltered, these beers are meant to be drunk young and fresh. Peaks and Pints has a bunch of new school Northeast hazy IPAs in our cooler, four of which we present in today's to-go flight of bottles and cans, Peaks and Pints Pilot Program: Northeast Hazies On The Fly.
Peaks and Pints Pilot Program: Northeast Hazies On The Fly
Fat Orange Cat Bruno The Baby Beer Cat
6.8% ABV
Fat Orange Cat Brew Co. is a small, seasonal farm brewery in East Hampton, Connecticut, but many of their craft beers, including Bruno the Baby Beer Cat hazy IPA, is brewed and canned at Dorchester Brewing in Boston, Massachusetts. They specialize in small batch recipes making an effort to support and promote local agriculture. Fat Orange Cat's Bruno is brewed with Mosaic, Galaxy and Denali hops for intense but balanced berry, pineapple, and citrus flavors with a smooth, purrfect finish.
Timber Insomniac's Daydream
7% ABV
The plaid-wearing outdoors enthusiast Jason Stein would leave his Upper West Side apartment in New York City and travel to Long Island to homebrew barrel-aged imperial stouts and barleywines in his parents' garage. Today, he'll brew his Timber Ales in Connecticut on Twelve Percent Beer Project's big system. His Insomniac's Daydream is part Timber's rotating IPA series — this hazy version dry hopped with Citra and Galaxy hops. Expect light to moderate aromas of gooseberries in the nose. The taste has flavors of limes and gooseberries along with notes of lychee. Little, if any, bitterness is perceptible.
Short Throw Mutual Respeck
8.2% ABV
Five months after his planned brick-and-mortar spot fell through, Virginian Brandon Tolbert moved his Short Throw Brewing Co. to the Twelve Percent Beer Project facility, a contract brewery near New Haven, Connecticut. "This time around, during the Covid-19 pandemic, we teamed up with our great friends at Triple Crossing to produce a beer exhibiting our tight bond without being within 6 feet of each other," says Tolbert. "Mutual Respeck is a hazy double IPA adorned with the bountiful aromatics of Cashmere and Citra hops, dry-hopped with the same varietals."
Nightmare Drawn And Quartered
10% ABV
With ravenous passion for horror flicks and death metal and a disdain for cookie-cutter IPAs, Billy Powell's Nightmare became real in December 2018. He founded the Long Island-based, but not based, Nightmare Brewing Company. Powell hit the road, literally, as a gypsy brewer, using other brewery's facilities to produced his torture-themed craft beer. He's often at Dorchester Brewing in Boston, sourcing expensive ingredients from around the world, which adds a few cents to his can retail prices. His Drawn And Quartered quadruple dry hopped imperial New England-style IPA is brewed with Nelson Sauvin, Galaxy, Enigma and Citra hops tossed into the mash tun, kettle, fermentor (four times) and brite for nectarine, mango, and underlying white wine aromatics, followed by tropical notes, mango, ripe pineapple, tangerine, and lychee flavors, finishing with a dank bite and alcohol warmth.
---