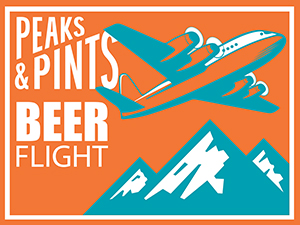 It's that time of year again, and we're not talking about the Mount St. Helens eruption anniversary — it's American Craft Beer Week. The annual celebration, organized by the Brewers Association, is all about advocating for and appreciating small, independent breweries. In its 16th year, the American Craft Beer Week runs through May 22, and the weeklong celebration of independent brewing will offer Washingtonians a chance to support the state's homegrown taprooms, brewpubs, and breweries. According to the Brewers Association, Washington is now home to 437 craft breweries, roughly 7.6 per 100,000 adults of legal drinking age, which ranks ninth in the nation. Recent BA reports show that the craft brewing has an annual impact on the Washington economy of more than $2 billion. This week is almost a state holiday. Here are six new Washington ways to toast the occasion: Peaks and Pints Pilot Program: New Washington Beer On the Fly.
Peaks and Pints Pilot Program: New Washington Beer On the Fly
7 Seas Tripel Delight
10.4% ABV
Founders Mike Runion and Travis Guterson opened 7 Seas Brewing in 2008, but a fire in January 2009 at the original downtown Gig Harbor address meant the two young beer makers and co-owners had to relocate. Popularity and growth forced them to move to a larger location back in downtown Gig Harbor, which they eventually closed after opening an 80,000-square-foot expansive taproom and production facility with 10,000 sq. ft. basement for barrel program in downtown Tacoma at a site that once held part of the Heidelberg Brewery. 7 Seas still has a home in Gig Harbor — a waterfront taproom in the former Green Turtle location. Their barrel aged, Trappist-inspired Tripel Delight is conditioned on dried citrus peel and a touch of fresh ginger. Aged for 2 years in port wine barrels, this Belgian-style tripel showcases a dried fruit characteristic with subtle caramel flavors leading to a dry, mildly tannic finish.
Everybody's Helles-Style Lager
5.2% ABV
In 2001, Doug Ellenberger packed up his 1987 Volvo Station Wagon and made the haul from Indiana to Hood River, Oregon, following his love of craft beer and mountainous terrain. He brought with him a few duffel bags belongings and a load of knowledge from his time brewing for Lafayette Brewing Co. He landed himself a job at Full Sail Brewing, honing his craft. In 2002, Christine McAleer left her life and career as a social worker in West Virginia to pursue her passion for the outdoors, landing her in the great Columbia River Gorge. One seasonal gig after the other, she found herself at Full Sail Brewing, where she met Doug. They fell in love, not only with each other, but with a mutual dream of owning a business that would reflect their desire to provide innovative brews, locally-sourced food, and — most importantly — a place for everybody to connect and find a sense of home. July 2008, they launched Everybody's Brewing in White Salmon, Washington, opening the restaurant a year later. Ten years later, they opened a new, stunning facility two doors down, doubling their production to 30 batches a week, but keeping their view of Mt. Hood, albeit from a bigger deck. Their clean and refreshing Helles-Style Lager offers a subtle sweetness reminiscent of warm baked bread. It's made with premium German malts and classic noble hops for a rounded body and spicy, mild bitterness.
Backwoods Who Wears Schwarz?
4.8% ABV
In 1880 A. S. Estabrook built the first sawmill in Wind River Valley, a waterpower concern on Carson Creek in Skamania County, Washington. The following year, a company built a good-sized steam sawmill where the town of Carson now stands. The lumber industry has since left Carson, but Backwoods Brewing Co. pours craft beers and serves delicious pizza for flannel-wearing folk in the town. Backwoods' taproom sits at the gateway to the Gifford Pinchot National Forest, Old Man's Pass and Mt. St. Helens. Wind River Highway runs directly through Carson leading to world class fishing, hunting, hiking, mountain biking, berry and mushroom picking, sledding, cross-country skiing, snowmobiling and beautiful scenery. While only at 469 feet above sea level, Carson looks and feels like a mountain town, which in addition to making world-class craft beers, we adore this brewery. Their Who Wears Schwarz? Is a dark German-style lager balancing toasted malt forward character with a light body and clean finish.
Black Raven Origin – Seattle Beer Week 2022
6% ABV
In April 2009, Beaux and Kat Gillespie opened Black Raven Brewing Company close to downtown Redmond and the Sammamish River Trail. The official beer of the 2022 Seattle Beer Week, Origin is a modern take on the West Coast IPA: a 50-50 split between Pilsner and Pale malt provides a clean and crisp pedestal to showcase the trio of hops — Nectaron, Galaxy, and Mandarina Bavaria. Intense tropical fruit notes, bordered by citrus and with a balancing hint of the traditional pine and resinous notes that marks a typical West Coast IPA.
Kulshan Trackside Haze
6.2% ABV
Founded in 2012 by Bellingham native David Vitt, Kulshan Brewing is one of the fastest-growing breweries in Whatcom County. Just one year after opening, they doubled the size of their brewhouse to 15 barrels to keep up with demand. In 2015, Kulshan opened a second brewery, affectionately named "K2", across town with a 30-barrel brewhouse. In 2019, Kulshan won the Peaks & Pints Tournament of Beer: Northwest Pilsners. Last summer, Kulshan opened Trackside Brewery and Beer Garden, is a pilot brewery and seasonal, pop-up beer garden located on the former Georgia Pacific paper mill site in downtown Bellingham's redeveloping waterfront district. Kulshan brewed Trackside Haze IPA for the seasonal beer garden. It's a smooth, easy-drinking hazy IPA, bursting with juicy tropical fruit and citrus hop notes.
Stoup Mother of Exiles
7% ABV
Scientist Brad Benson and foodie Lara Zahaba opened Stoup Brewing in Seattle's Ballard neighborhood in 2013. Washington state's first female Cicerone, Robyn Schumacher, became Stoup's third partner, assisting Benson in the brewing room. Benson graduated from Gonzaga University with a B.S. in Chemistry and has been crafting beer for more than 27 years. Stoup's Mother of Exiles is inspired by American poet Emma Lazarus who wrote Mother of Exiles in 1883 to raise money for the construction of the pedestal of the Statue of Liberty. It was originally brewed as part of the #beertrumpshate campaign, but immigrant and refugee crises can happen anytime and anywhere. Every time this beer comes into Stoup's rotation it highlights a community in need and proceeds will be donated to an organization addressing those needs. Since this will periodically change, specifics can be found on their website and social media channels. This IPA highlights their love of Galaxy hops. They boosted Galaxy's huge tropical fruit aroma and flavor with a little Citra for a massive hop nose and a clean, firm bitterness finish.
LINK: Peaks & Pints cooler inventory
---