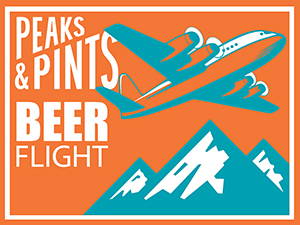 Hitting the scene in the early 2010s, the New England style India pale ale came to fame thanks to a Vermont brewery, The Alchemist, with their Heady Topper, an unfiltered double IPA that became a cult favorite. The beer was a success, and other New England breweries followed suit: namely Hill Farmstead Brewery, also in Vermont, along with Trillium Brewing Company and Tree House Brewing Co., both in Massachusetts. Call them hazy, New England or Northeast style; they're still all the rage. Even the Brewers Association recognizes the category for its competitions. Though loaded with hops, these small-batch brews tone down the bitterness by using milder varieties like Citra and Mosaic, and adding them late in the brewing process. Unfiltered, these beers are meant to be drank young and fresh. Today, Peaks and Pints offers a to-go flight of new hazy IPAs that we call Peaks and Pints Pilot Program: New Hazy IPAs On The Fly.
Peaks and Pints Pilot Program: New Hazy IPAs On The Fly
Level Council of Haze IPA
7% ABV
In search of a spacious property to commission some brews of his own, Geoff Phillips, owner of Bailey's Taproom in downtown Portland, converted a former produce market in East Portland's Argay neighborhood into the Level Beer Co. Phillips hired two talented brewers — Jason Barbee of Ex Novo and Shane Watterson of Laurelwood — and began cranking out delicious beer from a 20-barrel production brewery with a cozy taproom and a massive covered patio. Level invited Vancouver brewery Trap Door to council on this hazy IPA. Trap Door said only if they can use a ton of hops and make it juicy, tropical and fruity. The vote was unanimous and the council adjourned.
Stemma CD9 Hazy IPA
6.8% ABV, 70 IBU
Located a hop, skip and jump from Kulshan Brewing's K2 facility, husband and wife Jason and Kim Harper, as well as cute kittens, opened Stemma Brewing in June 2019. After watching his dad homebrew from the late 1980s on, Jason was eager to take his homebrew talents pro. He drew up business plans while attending Western Washington University in 2011, drink his way through Bellingham's only breweries — Boundary Bay and Chuckanut. JUXT Taphouse joined Stemma in brewing this hazy with Galaxy and Experimental HBC 586 hops, giving off melon-y, punchy and tropical flavors.
Narrows Kraken Heads Hazy IPA
6.2% ABV, 30 IBU
The first beer in Narrows Brewing's Halloween series, Kraken Heads IPA is an homage to Jason, one of their favorite slashers, as well as Seattle's new NHL team. It's more on the creamy, dry and bitter side with the freshest of Strata hops from the 2020 harvest for floral notes.
Narrows Depth Check
9% ABV, 70 IBU
For those in a hurry, know this is a delicious hazy double IPA. Those with time, here is the story behind the name. …
"I found myself at the beer industry table during Pint Defiance's Sixth Anniversary party," explains Rich Jamieson, Rogue Ales sales executive, who collaborated on this beer with Orcas Distributing Brand Manager Matt McLaren and the Narrows Brewing crew. "It was McLaren, Joe from Puyallup River Brewing, Paul from Wet Coast Brewing and a few others. As tends to happen when an occasion includes a signature beer — an anniversary IPA from Aslan that year —everyone ordered the event beer except for one outlier, me. At the time I worked for Alpha Distributing, and we had a different beer on Pint D's tap list. As a good company man, who also wanted to expense his tab later on, I ordered from my team. It was Logsdon's Peche n Brett, which apart from being very delicious, has no hint of its nearly 10 percent ABV. This fact is where things take a turn toward the Depth Check name. … McLaren, seeing I have a tulip and not a pint, asks what I ordered, and as I tell him he scoffs and starts telling me, and the entire table, how nuts I am starting that day of drinking with a nearly 10 percent-er. I slow sip and let him get it out, wait for him to take a breath, and politely ask if he's done. He says he is, and I reply to his position that I'm nuts with, "It's called a depth check; I'm making sure my liver is being warned what I'm getting it into today!" The table erupted with laughter. The story follows me even today. When Narrows Head Brewer Matt Rhodes asked what name should be tagged with this beer, I suggest my go-to depth check: high ABV, citrusy, but finishes so clean you didn't know about the booze until you try to stand up from your barstool."
Well, success, Rich. This double hazy IPA is brewed with various advanced forms of Citra, Ekuanot, Eureka and Idaho 7, and double dry hopped with Azacca, Simcoe Cryo and Citra Lupomax for a cloaked, boozy, citrus-y hazy IPA.
---