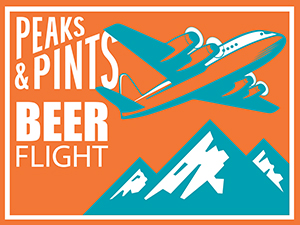 Forty years ago tomorrow, the world changed forever when Mount St. Helens erupted. Tomorrow, the world changes again as Peaks & Pints closes every Monday. Also, tomorrow (where's Annie when we need her?) is the final day of American Craft Beer Week 2020. That's all fine and dandy, but today is Sunday, we need a to-go flight (it's what we do). Let's combine all these things into a prefunk for the Eruptiversary/final American craft beer focus/day we hang with family (in our underwear on the couch). Welcome to Peaks and Pints Pilot Program: Mount St. Sour On The Fly, a flight of four stellar, American sour ales that will explode your cheeks. "The Sun'll Come Out Tomorrow" (clouds are in the forecast).
Peaks and Pints Pilot Program: Mount St. Sour On The Fly
Off Color Yuzu Fierce
3.8% ABV, 3 IBU
Off Color Brewing's Yuzu Fierce is a Berliner weisse brewed with yuzu. First, Berliner weisse is a light-bodied sour wheat beer known for being highly carbonated with acidic sourness. Second, yuzu is a fancy Asian citrus fruit — a hybrid fruit of a Mandarin and some other, fancier citrus fruit called an Ichang papeda. The two combine for a kettle sour that hits the nose with ginger and lime — both transfer to the taste with added pear notes.
Crooked Stave Mama Bear's Sour Cherry Pie
7% ABV
Crooked Stave's Mama Bear's Sour Cherry Pie is a burgundy sour ale aged in oak barrels with more than 3,000 pounds of Colorado Montmorency cherries is the result of blending carefully chosen batches of Origins with a heavy-handed addition of cherries sourced from orchards on the Colorado western slope. Expect all the jammy sour cherry notes, plus caramel, earthy notes, tart, cinnamon and berries. The finish is sour and sweet with cherry, cinnamon, tart, berries and earthy notes.
New Belgium Le Terroir
7.5% ABV, 12 IBU
New Belgium Brewing was an early American adopter of sour beer when, in 1996, former Rodenbach brewer Peter Bouckaert came to work for the brewery. Holding 12 Great American Beer Fest medals, New Belgium is America's most award-winning sour producer and home to the largest cellar of French and American Oak foeders in the country.  New Belgium's sours age in traditional foeders for up to a year and the brewery is home to the oldest, continuous souring culture in the United States. In fact, they were the first brewery to dry hop sours in the US with their first release of Le Terroir in 2005. Le Terroir begins its life as a golden lager named Felix, which is then aged in the brewery's enormous fleet of oak foudres. This base beer is then moved into stainless steel tanks and dry hopped using both large volumes of Amarillo hops and a smaller contribution of Citra hops. It hits the nose with funky lemon and orange, which follow to the tongue but with a touch more orange in the middle. It finishes lemon-y with a little funk and orange.
Cascade Vlad The Imp Aler
10.3% ABV
Few names have cast more terror into the human heart than Dracula. The legendary vampire, created by author Bram Stoker in his 1897 novel of the same name, has inspired countless horror movies, television shows and other bloodcurdling tales of vampires. Though Dracula is a purely fictional creation, Stoker named his infamous character after a real person who happened to have a taste for blood: Vlad III, Prince of Wallachia or — as he is better known — Vlad the Imp Aler. The morbid nickname is a testament to the Wallachian prince's favorite way of dispensing with his enemies. Cascade Brewing & Barrel House's Vlad The Imp Aler is an imperial Northwest sour blend of strong blonde quads and tripels aged in oak and bourbon barrels, then further blended with spiced blondes and left to condition for an additional five months for sweet caramel malt with woody notes, light acidity, light cherry, and alcohol warmth.
---