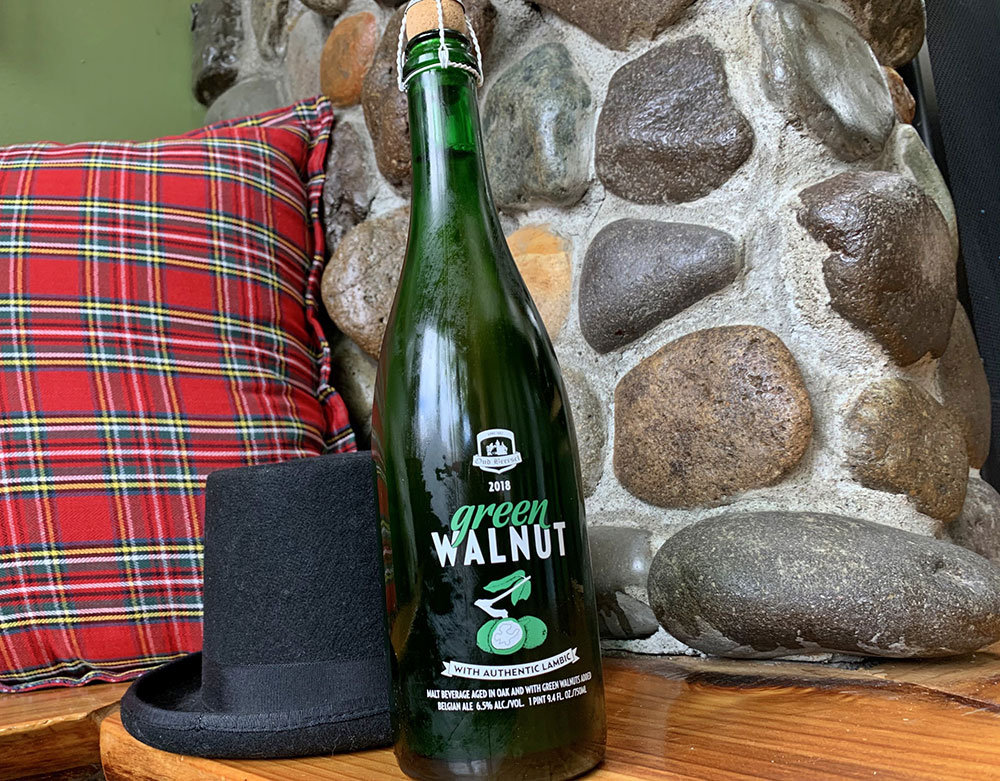 Fancy Pants Sunday: Oud Beersel Green Walnut
Brouwerij Oud Beersel dates back to 1882 in the town of Beersel in Flemish Brabant, a province of Flanders, one of the three regions of Belgium. As the story goes, in 1880, Henri Vandervelden managed the fruit harvest for lambic brewery Brouwerij De Kroon in Uccle, Belgium. His experience at De Kroon gave him the necessary skills to continue on with his own brewery. Vandervelden opened his lambic brewery next door to a village shop with a café next owner by farmer Jeromius Hofmans. Vandervelden's son, Egidius, married Hofmans' daughter, Catharina, melding the two enterprises into an actual brewery under the Vandervelden name for the next four generations. Egidius passed away at a young age in 1953, leaving the brewery to his son, Henri Vandervelden II.
Henri II graduated from the Institut National des Industries de Fermentation in 1948, and already had first hand knowledge of the brewing process when he took over after his father's death. Upon taking over the brewery, Henri II chose the name Oud Beersel to emphasize the artisanal, traditional character of his brewery and also to distinguish himself from what he referred to as "New Brussels." Fancy Pants Sunday: Oud Beersel Green Walnut examines Oud Beersel's fancy 2018 lambic, a blend of 1- and 2-year old lambics with fresh green walnuts added.
Lambic-style beers are known for their musty, tart, sour, acidic, and earthy flavors. Traditional methods used by Belgian brewers involve wild or natural fermentation with yeast and bacteria that are part of the area where they are made, which in Oud Beersel's case, Flemish Brabant.
The first batch of Oud Beersel Green Walnut was released in July of 2015. A second batch was released in June of 2016, and annually thereafter. Following the French and Italian tradition of producing Vin de Noix and Nocino from green (unripened) walnuts, Oud Beersel's Green Walnut lambic is the first commercially released lambic to contain nuts of any kind. In July, the still green walnuts are gathered in the Oud Beersel orchard and are added to the lambic beer that matured in wooden wine barrels. After the bottle fermentation this sparkling walnut Lambic of Oud Beersel is called Green Walnut.
The 4th edition of Oud Beersel Green Walnut, the 2018 release, has double the amount of walnuts than previous versions. The initial bitterness, which is extracted from the walnuts, is tempered during 10 months in wooden wine barrels. This results in a delicate balance between the light sourness of the lambic beer and the bitterness of the green walnuts. The barrels provide a subtle touch of red fruits to the beer.
The 6 percent walnut lambic pours a lively golden color hitting the nose with funky esters, some green apple notes and oak. The nose transfers to the tongue, with added light barnyard notes. After refermentation in the bottle, Green Walnut becomes a sparkling seasonal beer that pairs perfectly with blue cheeses, cured hams, and salads with nuts.
You fancy Oud Beersel Green Walnut!
---