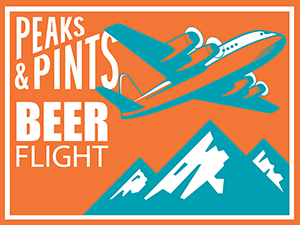 Celebrate mom, grandma, your best friend's abuela and any mother figure in your life this Mother's Day. There are so many great ways to say "thanks" to that special person, from epic brunch buffets to bottomless drinks to indulgent dinners. Then, there are those moms who all they really want is a day off to do whatever they want — nap on the couch, take a hike, grab an afternoon beer session with girlfriends. So maybe the best gift you could give Mom is to take the kids out for the day. Then, return to cook her dinner, or do take-out — or a combination of both — and pair the meal with the craft beers in Peaks and Pints Pilot Program: Mother's Day Dinner Beer Flight. Happy Mother's Day!
Peaks and Pints Pilot Program: Mother's Day Dinner Beer Flight
SIP TO START
Stiegl Radler Grapefruit
2.5% ABV, 8 IBU
Salzburg, Austria, sits just over the border from Germany. That means it's influenced by the famous Bavarian purity law — the base of this radler — Stiegl Goldbräu helles — follows it, using only hops, barley, water, and yeast — but the brewery doesn't have to follow the rules if it doesn't want to. And, thus, Stieglbrauerei zu Salzburg's radler in a can. This cloudy Austrian grapefruit 2.5-percent ABV thirst-quencher keeps saccharine qualities in check, meaning the radler is so crushable you could start with it in the morning and don't have to end until long after the sun goes down. Or so we've heard.
DEVILED EGGS APPETIZER
E9 Brewing Free Jazz IPA
6.3% ABV
A deviled egg has an ultimate simplicity — hard boil an egg, cut in half, take the yolk out and replace it with stuffing. That's it. So, it is not surprising that the first mentions of the stuffed eggs go all the way back to the ancient Romans, literally to the first century A.D, where stuffed eggs were served as an appetizer during parties. The stuffing choices had no limitations and included all kinds of herbs, spices and meats. Peaks & Pints' Spicy Deviled Eggs have jalapeños in the stuffing, and the perfect beer to cut through this spiced rich yolk mixture is an aromatic West Coast IPA such as E9 Brewing's Free Jazz IPA with straight up pine citrus bitterness. Maybe stream a little John Coltrane during this course.
SOMETHING SAVORY
Brasserie Thiriez La Blonde d'Esquelbecq
6.5% ABV
For the main course we suggest whipping up some saltimbocca — veal covered in prosciutto and sage and served with a lemony butter sauce. The comforting dish is balanced and comforting on its own, but with a refreshing glass of Brasserie Thiriez La Blonde d'Esquelbecq biere de garde the meat's flavor shines. The delicate spicy champagne aromas of this thirst-quenching French farmhouse ale are quickly followed by herbal notes with a light hop earthiness, sweet malt, and a lightly bitter dry aftertaste.
SOMETHING SWEET
Lindemans Framboise
2.5% ABV, 12 IBU
You'll want to end your motherly tribute on a sweet note. Since Peaks & Pints is an outdoor-themed craft beer lodge, we suggest s'mores for dessert. But, have some fun with it. Campfire S'mores Lava Cake is cake-y on the outside with a warm dark chocolate bursting with graham crackers and marshmallows in the center. We found a recipe that only takes 30 minutes to make. By itself Lindemans Framboise drinks like raspberry soda-pop; pink, fizzy, and sweet with just a touch of tart in the background. In combination with s'mores, though, the acidity is amplified, making it a great contrast to the saccharin sweet.
LINK: Peaks & Pints cooler inventory
---