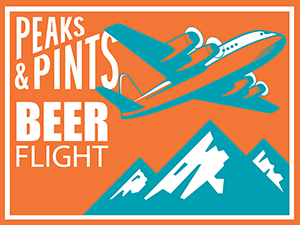 Lagers have seen a resurgence of late. Almost every brewery makes at least one, from the American light lagers modeled on Bud, Miller, and Coors, to the ever-present pilsner, to more interesting varieties such as dunkels, dopplebocks, maibocks and marzens. This wasn't the case five years ago, however, for several reasons. For starters, since lagers typically take at least a month to ferment, as opposed to two weeks for ales, most quickly growing breweries focused instead on keeping their taprooms full of the more popular hoppy ales. Lagers can also be finicky if a brewery lacks specialized equipment, and they remind some beer drinkers of those mass-produced industrial light lagers that many craft brewers and their customers eschew. Today, Peaks & Pints has lagers on the brain, mostly due to the weather. Stop by our craft beer and cider lodge and grab Peaks and Pints Pilot Program: Lager Beer Flight.
Peaks and Pints Pilot Program: Lager Beer Flight
Fort George Beach Eagle
4.7% ABV
Fort George Brewery's Beach Eagle is a Mexican-style lager named for the glorious Beach Eagle of the North Oregon Coast. Fort George brewed this pale lager to pair specifically with Mexican food on the beach. Pale in color, light in hops, and full of refreshment, this classic lager has a light grainy corn flavor with subtle citrus and floral notes that tastes great with or without a lime wedge tossed in.
Bell's Lager For The Lakes
4.8% ABV
Protecting the waters has always been a passion for Bell's Brewery, and with Lager For The Lakes the Michigan brewery hopes to bring awareness, engagement, and action behind the need to protect and preserve the availability of clean water. Bell's donated $25,000 to the Alliance for the Great Lakes, which is a nonprofit group that helps protect the fresh, clean, and natural waters of the Great Lakes. Lager For The Lakes is a traditional American lager that's well-balance with a crisp finish.
Structures For Our Friends In The Great White North
4.8% ABV
In 1993, Tacomans Dave Verellen, Tim Latona, Brian Cook, and Dave Knudson formed American mathcore band Botch after meeting at DIY punk shows in South End community centers and all-ages spaces. They released their first full-length, American Nervoso, in 1998 and then went on to write one of the most iconic and influential metallic hardcore albums of all time, We Are the Romans, in 1999, which contained the song, "For Our Friends In The Great White North," which is the name of Structures Brewing's recently release Canadian lager they brewed with Holy Mountain Brewing.
Great Notion Elite Lager
5% ABV
Elite Lager is the official beverage of the Elite Lager Shotgun Club. Every Friday, Great Notion Brewing's brewhouse shotguns a fresh lager from a Portland area brewery together. This helles is made with Pilsner and Munich malts with Hersbrucker hops for a clean and bready lager with spicy hop notes, and, of course, crushable.
pFriem Japanese Lager
5% ABV
The rice lagers produced by Kirin, Sapporo and Asahi are extremely popular throughout Japan, and at sushi restaurants here in the US. Because rice lacks certain enzymes that traditional beer grains like barley have, most rice lagers contain a certain amount of barley as well, but it's the rice that define this style's flavor and alcohol, which pFriem Family Brewers digs. The Hood River brewery's Japanese Lager is brewed with rice in the Japanese tradition. It hits the nose with aromas of Shiso plum, fresh bread, ands, plus sparkling notes of fresh green tea and wildflowers. It also hits the winner's circle as it just grabbed Gold at the 2023 World Beer Cup in Nashville, Tennessee.
LINK: Peaks & Pints cooler inventory
---