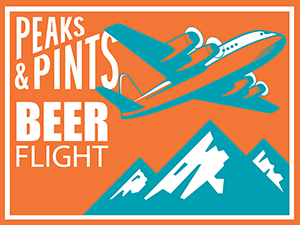 The 2023 World Beer Cup Competition took place on Wednesday, May 10 in Nashville, Tennessee. Often called the "Olympics of Beer", the global competition is organized by the Brewers Association, the not-for-profit trade association for America's small and independent craft brewers. This year's competition saw 10,213 entries from 2,376 breweries, across 51 countries. Those entries were judged in Nashville by 272 judges hailing from 26 countries. Out of 307 medals awarded, Oregon and Washington breweries brought home 35 World Beer Cup medals, including multiple-medal winners Icicle Brewing, Grains of Wrath, 10 Barrel Brewing, Bend Brewing, and Sunriver Brewing with Fair Isle Brewing of Seattle bringing home two of the three medals in the Mixed-Culture Bret Beer category. Today, Peaks & Pints presents a to-go beer flight of beers that medaled at this year's World Beer Cup that happened to be in our 850-plus cooler and on tap for our Campfire Crowlers — a flight we're calling Peaks and Pints Pilot Program: 2023 World Beer Cup Flight.
Peaks and Pints Pilot Program: 2023 World Beer Cup Flight
Icicle Premium Pilsner
4.9% ABV
BRONZE, INTERNATIONAL PILSENER: Born from the crystal-clear waters of the Icicle River, Icicle Brewing's Premium Pilsner is brewed with noble hops in the international style for light hop character. This well-balanced beauty is subtle, yet refined, with lightly floral aromas, smooth mouthfeel, and satisfying finish.
pFriem Japanese Lager
5% ABV, 15 IBU
GOLD, INTERNATIONAL LAGER: The rice lagers produced by Kirin, Sapporo and Asahi are extremely popular throughout Japan, and at sushi restaurants here in the US. Because rice lacks certain enzymes that traditional beer grains like barley have, most rice lagers contain a certain amount of barley as well, but it's the rice that define this style's flavor and alcohol, which pFriem Family Brewers digs. The Hood River brewery's Japanese Lager is brewed with rice in the Japanese tradition. It hits the nose with aromas of Shiso plum, fresh bread, ands, plus sparkling notes of fresh green tea and wildflowers.
Grains of Wrath Papermaker Pale
5.8% ABV, draft
BRONZE, AMERICAN-STYLE PALE ALE: The metal movement has an outsider ethos and no-holds-barred authenticity that appeals to many brewers, including Grains of Wrath co-owner and Brewmaster Mike Hunsaker. The metal- and punk-loving dude cut his teeth as a homebrewer and by working for breweries in Chicago and Cleveland, before relocating to Portland in 2014 to become the head brewer at Fat Head's Brewery, where he became known for original West Coast IPA recipes such as SemperFiPA, GABF gold medal-winning Blitzkrieg Bock and GABF bronze medalist Vienna Lager. Fat Head's closed, which lead to Hunsaker opening his new punk and metal inspired brewery Grains of Wrath in Camas, Washington, with backers Brendan Greenen, Shawn Parker, and Brendan Ford. When our Pappi Swarner's Tournament of Beer: Northwest Pale Ales Tour parked at Grains of Wrath in March the brewery had their World Beer Cup version of their Papermaker Pale on tap. Apparently, beermaker Mike Hunsaker dialed in Papermaker's balanced bitterness and Mosaic, Citra, and Strata flavormakers for grapefruit and pineapple notes as it took Bronze at the 2023 World Beer Cup.
Breakside Breakside IPA
6.4% ABV
SILVER, AMERICAN-STYLE STRONG PALE ALE: In 2010 — with his Siebel Institute education, training in Germany and Belgium, and degree from Yale tucked under his arm — Ben Edmunds opened Breakside Brewery in the quiet Woodlawn neighborhood of Northeast Portland as a restaurant and nano-sized brewery. Strong Pale Ale is a beer category that leaves the brewer with room for interpretation and creativity.  Generally Strong Pale Ales are higher in alcohol with more bitterness than an English or American Pale Ale. Breakside's medal winning easy drinking, light, and perfectly refreshing strong pale ale, Breakside IPA, sports tropical fruit up front, pine, a little garlic, and herbal notes, slight malt sweetness, hints of caramel, and a nice bitterness that extends into the aftertaste.
Icicle Alpenhaze
6.3% ABV, 30 IBU
GOLD, JUICY OR HAZY PALE ALE: Icicle Brewing's signature hazy is a bright, tropical, and juicy IPA brewed with Mosaic, Citra, El Dorado, and Simcoe hops, giving it notes of mango, pineapple, tangerine, and apricot that excite the nose and palate. The malt profile provides a body that ends each sip with a light and pillowy mouthfeel. Alpenhaze also grabbed a Silver and Bronze at the 2021 and 2022 Washington Beer Awards, respectively.
Grains of Wrath Falling Up
6.4% ABV
GOLD: AMERICAN-STYLE BLACK ALE OR AMERICAN-STYLE STOUT: The Black IPA is a challenging beer. Brewers essentially take all the hops they'd use in a Northwestern IPA and brew it with a roasted dark malt. Go too light with the malt bill, and it's just a mangled IPA. Too dark, and you get a viciously astringent beer with strong notes of burning rubber. Grains of Wrath Brewmaster Mike Hunsaker has brewed several versions at Fat Head's and perfected at his Grains of Wrath. Falling Up Black IPA is brewed with Chinook, Mosaic and Simcoe hops to provide a resinous, citrusy balance with an assertive bitterness and a toasty caramel and chocolatey roasted malt background.
Pelican Superswell Double Pilsner
7.4% ABV
GOLD: OTHER STRONG BEERS: An undersea volcano erupted in spectacular fashion near the Pacific nation of Tonga on Saturday, sending large tsunami waves crashing across the shore and people rushing to higher ground. A tsunami advisory in is effect for the West Coast, including Oregon and Washington. The National Oceanic and Atmospheric Administration expects initial 1- to 3-foot waves will meet the Oregon Coast between 8 and 9 a.m., where the four Pelican breweries and brewpubs sit. Our guess Pelican Brewing's Superswell Double Pilsner will be their most popular beer today. Hopefully people will enjoy the spicy and herbal notes, toasty biscuit flavor, and assertive, clean bitter beachside instead Oregon higher ground, although evacuation isn't advised.
Ghostfish Close Encounters of the 8th Kind
12.8% ABV
GOLD, GLUTEN-FREE BEER: Sometimes you don't need to look to the stars to find inspiration. For their eight-anniversary beer, Ghoshtfish Brewing simply had to look across the street for their take on a barleywine. Desiring something big they secured Westland Whiskey casks from their neighbors and aged this milletwine for 10 months. Expect a silky body, smooth finish, milk chocolate across the palate, complex malt flavor, and slight sweetness on the finish.
LINK: Peaks & Pints cooler inventory
---