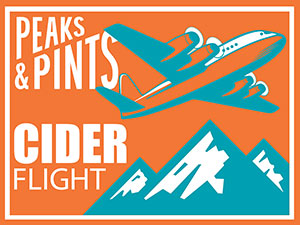 Since 2015, the Zehner family has made delicious, crushable cider, many from a dry-hopped apple base to pull out citrus aromas at their Incline Cider Company. The Auburn-based cidery with a popular Tacoma taproom uses 100 percent fresh pressed apples, no added sugar, no carbonated water, and the result are ciders that are balanced, not too sweet and super flavorful. In 2019, they opened the Incline Cider House in Tacoma's Historic Brewery District. The traditional-style bar allows a true cider experience by offering 16 tap handles of eight to 10 of Incline's own ciders, and additional rotating Washington and Northwest ciders. It's Monday, which means Peaks & Pints presents a to-go cider flight. This week we're featuring Incline Cider is a flight we're calling, Peaks and Pints Monday Cider Flight: Incline Cider.
Peaks and Pints Monday Cider Flight: Incline Cider
Incline Beare's Original Haze
5% ABV
Incline Cider's Beare's Original Haze is "inspired by a family name that promotes quality, boldness, and originality in both the cider we craft and the people behind it." It's fermented with Pacific Northwest apples, showcasing the prized honeycrisp, for a light, hazy, refreshing, and full of flavor cider with notes of citrus and a subtle sweetness.
Incline Cucumber Jalapeño
5% ABV
Jalapeno is a pepper fruit from the species Capsicum annuum. It is bright in flavor and tastes like serrano peppers. Cucumber and jalapeño are one of Peaks & Pints' favorite flavor combinations.  Too often, we think, jalapeños as carriers for spice, but it has a lovely sweet, earthy, peppery flavor that's brought to life by the mellow, hydrating flavor of cucumber. Incline Cider's latest creation capitalizes on this flavor combo with jalapeño aroma backed up by refreshing cucumber and authentic jalapeño flavor.
Incline Marionberry
6.5% ABV
It's a cross between the Chehalem and Olallie blackberries. It has a dark red to black color, has medium-sized seeds and weighs 5 grams on average. The flavor is richer than a regular blackberry, which is why the fruit has been dubbed "the Cabernet of blackberries." It's the marionberry. Incline Cider's most popular cider, Marionberry pours a dark purple with an inviting dark fruit nose. The fruit forward cider has a tart finish that keeps it balanced.
Incline Blood Orange
6.5% ABV
"If you haven't had the pleasure of experiencing a blood orange, I highly recommend it," says Peaks and Pints bartender Nicole Allen. "As the name suggests, blood oranges are red in color, sometimes in splotches on the outside but definitely on the inside. The concentration of the red inside depends on the orange and growing conditions. Squeezing them is when you truly understand where the "blood" reference comes from: the juice resembles the ruby red of a cranberry as opposed to the yellowish tone of orange juice. I'm a fan of Incline Cider. Their Blood Orange cider tastes like juicy blood orange plus citrus notes with a touch of tart."
Incline White Peach
6.9% ABV
From the outside, yellow, and white peaches are distinguished by their skin color — deep yellow with a red or pink blush for the former versus pale and pink for the latter. Inside, the golden flesh of the yellow peach is more acidic, with a tartness that mellows as the peach ripens and softens. White-fleshed peaches are lower in acid and taste sweet whether firm or soft. White peaches also more delicate and easily bruised, which kept them from being sold in most stores until the 1980s, when hardier varieties were developed. According to Russ Parsons in How to Pick a Peach, older varieties of white peaches (and nectarines) had a bit of tang to balance the sugar, but the ones sold today are more uniformly sweet. Incline's White Peach is sweet, indeed, but not too sweet. Peach flavor does shines, though.
Incline Imperial The Tropics
8.4% ABV
POG is a drink made up of passionfruit, orange, and guava juices (hence POG). The story goes it was created in 1971 by the now-defunct Haleakalā Dairy on Maui. Passionfruit, known in Hawaii as lilikoi, hails from South America, and yellow passion fruit is thought to have been introduced in the 1920s. Guava likewise comes from Central and South America but thrives in the Hawaiian islands' temperate climate, and one variety, strawberry guava, is now recognized as one of the biggest invasive tree species. Native to Asia, oranges were introduced to the islands in 1792 by Captain George Vancouver. Incline's Imperial The Tropics, ITT, recreates the classic combination of passionfruit, orange, and guava, packing a punch at 8.4 percent.
LINK: Peaks & Pints cooler inventory
---