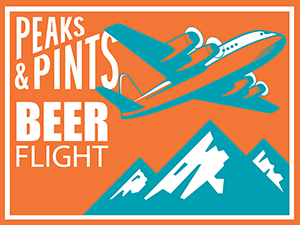 The 17th annual American Craft Beer Week is under way and picking up speed. The Brewers Association — a nonprofit group recognized as the central foundation for craft beer in America — designates a week in May to celebrate small and independent craft breweries. This year, May 15-21 serves as an opportunity to get to know your local brewers. Beer was once the unfussy option, the tonic of the masses. On Cheers, Norm simply orders beer — no need for a name, because beer was just beer. In contrast to the perceived snobbery of wine, beer was meant for drinking, not thinking. Today that divide is not so sharp. Peaks and Pints listens to guests discussing the merits of individual hops the same way sommeliers might extol grape varietals. American beer is more interesting and nuanced than ever before. In honor of American Craft Beer Week, Peaks & Pints presents an in-house flight of beer brewed in Washington state — a flight we're calling Peaks and Pints Beer Flight: American Craft Beer Week Washington.
Peaks and Pints Beer Flight: American Craft Beer Week Washington
Holy Mountain Getting Into Knives
5.3% ABV
Maybe Holy Mountain Brewing's Getting Into Knives saison is a reference to the 19th studio album by indie folk band the Mountain Goats through Merge Records, or maybe the Seattle brewery is just getting into knives. Whatever the case, this beer is a combination of mixed-fermentation, oak-aged saisons blended by the brewery's newest brewer, Meghan. After blending the 2- to 3-year barrel aged beers, it is moved to stainless steel and dry-hopped with Citra and Sabro. Expect some tropical vibes from this hop combination.
Grains of Wrath Falling Up
6.4% ABV
The Black IPA is a challenging beer. Brewers essentially take all the hops they'd use in a Northwestern IPA and brew it with a roasted dark malt. Go too light with the malt bill, and it's just a mangled IPA. Too dark, and you get a viciously astringent beer with strong notes of burning rubber. Grains of Wrath Brewmaster Mike Hunsaker has brewed several versions at Fat Head's and perfected at his brewery in Camas, Washington. Falling Up Black IPA is brewed with Chinook, Mosaic and Simcoe hops to provide a resinous, citrusy balance with an assertive bitterness and a toasty caramel and chocolatey roasted malt background. Bonus: This black IPA grabbed Gold at the recent 2023 World Beer Cup for American-style Black Ale or American-style Stout.
Vice Coast Malone
7.5% ABV
In the United States, a malt liquor generally refers to a strong lager in which sugar, corn, or other adjuncts are added to the malted barley to boost the total amount of fermentable sugars in the wort. This in turn boosts the alcohol by volume percentage without making it any fuller or sweeter, offering a potent, yet cheaply made drink. Malt liquor can come across as sweet, and that is because of the exceedingly low bittering of many brands. Vice Beer's malt liquor, Coast Malone — a collaboration with North Jetty Brewing — isn't as harsh as malt liquor back in the day, but rather offering a crisp, clean lager with a subtle corn finish.
Skookum Golden Boulder
7.6% ABV
It was 2007 when Ron and Jackie Walcher opened Skookum Brewery down a dirt road near Arlington. In 2012, Hollis Wood became the face of Skookum Brewery taking Skookum's beer to the next level as head brewer before he left for the East Coast in 2021. Today, a trio of brewers run the show. Max Neumann, Dave Kolbe and Savannah Diemer now churn out "big bold strong" craft beers in a giant facility with a popular taproom, which is down the street from the Arlington Airport — managed by an angel, a big, bearded lovable man named "Angel." Skookum Brewery brews beers that are locally sourced, with more than 90 percent of their barley grown and malted in state, on equipment predominately purchased locally including several pieces made in Washington state. Their Golden Boulder is an imperial stout rested on hazelnuts, cacao nibs, and a dash of pink salt. Expect notes of toasted hazelnuts, dark chocolate, cherry cordial.
Varietal Weizenbock
9.6% ABV
Chris Baum, John Cope, Chad Roberts, David Paulson, and Karl Vanevenhoven opened Varietal Beer in April 2018 in the Port of Sunnyside between Yakima and the Tri-Cities in Eastern Washington. The ownership all had a variety of dreams and life goals, but their Venn diagram centered on owning a brewery in the Yakima Valley. After earning the Enterprise Challenge held annually by the Yakima County Development Association and the Kittitas County Chamber of Commerce, Varietal became a thing. Their Weizenbock is brewed with European Pils, wheat and Caramunich malts then fermented with a traditional German yeast strain for a classic profile of caramel with clove and light banana esters.
LINK: Peaks & Pints cooler inventory
---