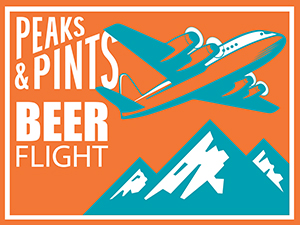 In 2016, Dan and Karen Powell opened Moonaker Brewing Co. in the same Auburn, California, industrial park as Knee Deep Brewing. Their head brewer Zack Frasher was a longtime homebrewer with experience brewing at Mraz Brewing Company and an itch to brew hazy IPAs. The trio won a silver medal at the 2016 Great American Beer Festival for Miss Conduct in the golden or blonde ale category and another silver medal in 2018 for imperial IPA with Northern Lights. But perhaps the most noteworthy accolade arrived in 2017 at The Bistro's Double IPA festival in Hayward, California. Moonraker had yet to celebrate its first anniversary when it won first place in the triple IPA category for Extremis, a beer that Frasher and his assistant brewers had brewed only twice. In second place was the storied Pliny the Younger from Russian River Brewing Company. Today, Moonraker's solar powered facility cranks out highly coveted New England style hazy beers including three in today's beer flight, Peaks and Pints Pilot Program: Moonraker Beer Flight.
Peaks and Pints Pilot Program: Moonraker Beer Flight
Moonraker Pie of the Beholder: Strawberry Rhubarb
6% ABV
This Moonraker Pie of the Beholder Kettle Sour Series is brewed with strawberry puree, a kiss of rhubarb, graham crackers, Madagascar vanilla beans, milk sugar, and lactose for a strawberry and vanilla forward smoothie sour liquid pie.
Moonraker Space Monkey Mafia
7.8% ABV
Moonraker's first cold IPA is fermented cool with lager yeast for crushability and a crisp finish. It has been double dry hopped with Mosaic, Mosaic Cryo, Nelson Sauvin, and Citra using a mix of dry hopping techniques to promote bio transformation and ethereal juiciness. Expect notes of guava, passionfruit, ripe tangerine, touch of that Southern Hemisphere diesel-y thiol, and a squeeze of lime finishing crisp and clear.
Moonraker Lazy Jack
7.1% ABV
Moonraker's Lazy Jack is a juicy, hazy IPA brewed with Berkeley Yeast plus the most popular IPA hop combination — Mosaic, Citra, and Simcoe hops — for bright flavors of orange, Life Savers, tropical fruit, and dankness.
Moonraker Papillon
8.5% ABV, 60 IBU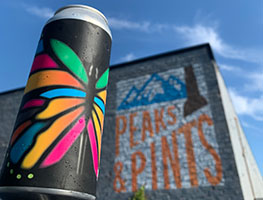 Moonraker's Papillon is a hazy double IPA brewed with Strata, Citra, and Simcoe for a creamy, sweet, tropical fruit juice-like beer.
Moonraker Simcoe Strata Double Crush
8.5% ABV, 70 IBU
Moonraker's Simcoe Strata Double Crush is a creamy, tropical, hazy double IPA brewed with said hops with notes of pineapple and grapefruit, plus a touch of bitterness on the end.
LINK: Peaks & Pints cooler inventory
---