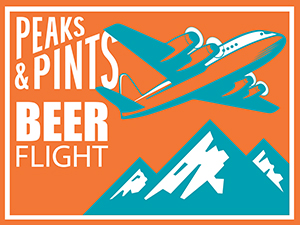 Like most beer festivals, Brew Five Three: Tacoma's Beer & Music Festival will begin with a branded taster glass, thirsty drinkers sporting pretzel necklaces and the faint whiff of sunscreen in the air. But once the organizer Tacoma Arts Live hands the guests the day's tap list, the mood will shift. Some will grab for golf pencils and started crossing off old familiars while others start circling the can't-misses from the 30 beer, cider, and mead booths. Many will grab an IPA and sip it while watching the Champagne Sunday, James Coates Band, and other bands. Tonight, Peaks and Pints hosts Tacoma Arts Live for a Brew Five Three Prefunk with discounted tickets, volunteer sign-up sheets and a to-go Brew Five Three flight of participating breweries. The event begins at 5:30 p.m., but the Peaks and Pints Pilot Program: Brew Five Three Beer Flight is available all day. Cheers!
Peaks and Pints Pilot Program: Brew Five Three Beer Flight
Great Notion Sugar High
6% ABV
Great Notion's Smoothie Development Experts are constantly scratching their heads for what flavor combinations to come up with next, so they decided to throw everything they could at this new recipe. They took their Fluff beers and Shake beers and combined the flavors into a Sugar High smoothie sour. Sugar High is a mixed berry smoothie made with blackberry, strawberry, and blueberry puree to create a decadently thick body. For an added bonus, it's finished with marshmallow and cotton candy flavors for a sweet and sour treat.
E9 Sawtooth to Hell
6.3% ABV
E9 Brewing loves Idaho as much as Peaks & Pints does. We could hike the Sawtooth Range forever. The Tacoma brewery's love for Idaho is so excessive that Sawtooth to Hell IPA is made with a huge amount of Idaho grown "Pure Idaho" Pilsner malt, and massively dry-hopped with Idaho Gem and Idaho 7 hops, imparting flavors and aromatics of tropical fruit, pineapple, and sweet hard candy. Sawtooth forever!
Lucky Envelope Nelson Juicy
6.3% ABV
Seattle's Lucky Envelope Brewing Co. owners Raymond Kwan and Barry Chan are committed to broadening craft beer with "culturally-inspired beers" drawn from their shared Chinese American heritage. Their ENIAC IPA Series is named after the first general purpose computer, the ENIAC, which set the foundation for the technological revolution. Part of the series, Nelson Juicy IPA showcases heavy whirlpool and dry hops of Nelson Sauvin balanced out with a touch of Mosaic. Nelson Sauvin hops are grown in the Nelson region of New Zealand and are coveted for their intensely juicy notes of crushed grape, gooseberry, and tropical fruit.
Trap Door Stay Classy
7.4% ABV
Ladies and gentlemen, can we please have your attention. We've just been handed an urgent and glorifying news story. We need all of you, to stop what you're doing and listen. Trap Door Brewing brewed Stay Classy! A collaboration with Vice Beer, this IPA is crispy, hoppy and 60 percent of the time it works every time. It will be a beer to remember so ready those jazz flutes and assemble your team with your personal conch shell for this fruit-forward IPA.
Narrows DDH SuperChicken IPA
7.5% ABV, 60 IBU
Last year, Narrows Brewing released SuperChicken West Coast IPA brewed with Pilsner malt and Amarillo, Apollo, Chinook, and Simcoe hops. It was the talk of the coop. This year, Narrows pulled out the SuperChicken and double dry hopped it for more piney, oily, Paloma-y and dank than their first batch.
Lumberbeard Campfire Stout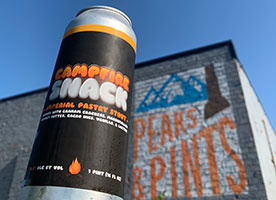 10.5% ABV
Bret Gordon left the University of Colorado with a degree in Economics and a passion for craft beer. That passion led him and his family to California where he went back to school to earn a Professional Brewing Certificate at the University of San Diego. In 2018, Gordon and his family traveled north to Spokane and opened Lumberbeard Brewing, a 20-barrel brewhouse on the east end of downtown. They collaborated with Humble Abode Brewing on Campfire Stout, an imperial pastry stout brewed with graham crackers, marshmallow, peanut butter, cacao nibs, vanilla, and lactose.
LINK: Peaks & Pints cooler inventory
---
Category:
Beer Line Blog
,
Craft Beer
,
Critical Drinking
,
Events and Festivals
,
In The Cooler
,
Peaks and Pints Pilot Program
,
Proctor District
,
Shop
,
South Sound
,
Specials
,
Tacoma events
,
Tacoma Strong