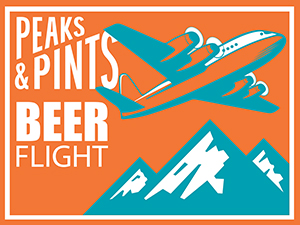 This Mother's Day, skip the box of chocolates or a handmade card. Honor the top lady in your life like the queen she is and thank her not only for bringing you into being but spending all that time and energy trying to raise you right and feed you well. Peaks & Pints suggests you buy her four amazing craft beers. Craft beer is social but sitting down to a taster flight with mom is high-intensity training for your taste buds. The key here is to talk about the beers and your upbringing as you drink them — what you like, what you don't, why you climbed on the 1964 Plymouth Barracuda and scratched the hell out of it with your cowboy belt buckle. Peaks and Pints Pilot Program: Mom Hug On The Fly is a vehicle to reconnect with mom. You should put your cellphone down and talk to each other while you're drinking. Today, Peaks & Pints skips the "mother" named breweries, the brunch beers, and the "girly" beers (that's not even a thing anymore, thankfully), and offers four amazing, delicious craft beers for mom.
Peaks and Pints Pilot Program: Mom Hug On The Fly
Skookum Barrel Aged Asesinato de Cuervos
11.5% ABV, 60 IBU
Skookum Brewery's Asesinato de Cuervos is a blended imperial stout with components of Murder of Crows, non-barrel aged Solitary Confinement and a small portion of whiskey barrel aged Murder of Crows. The brewery then conditions the beer on ancho and guajillo chilies, vanilla beans, cinnamon sticks, and cocoa nibs. The barrel-aged version spends 22 months in Woodinville whiskey barrels. The result hits the nose with dark toasted malt, cinnamon, vanilla, and slight hot pepper. Flavor is a delicious melding of Mexican chocolate flavors, light hot peppers, and stout. The chocolate flavors are well balanced. The peppers give a little hotness without interfering with the other flavors.
Firestone Walker Gold Rider
11% ABV, 27 IBU
Firestone Walker Brewing brewed a base beer with an infusion of Central Coast white wine juice. After fermentation, they aged the beer in 500-liter XXO French Cognac barrels for two years, with a separate portion matured in orange bitters barrels. Finally, they incorporated a touch of fresh-squeezed lemon juice to elevate the experience with citrusy acidity. The result is a distinctive barrel-aged beer whose ingredients and flavors faithfully mirror the experience of enjoying a classic Sidecar. Aromas of lemon, vanilla and toffee mingle with hazelnut and honey flavors along a lively, vibrant mouthfeel.
Smog City Buzzworthy
12.5% ABV
Smog City. If it sounds like the perfect name for the next L.A.-area brewery, that's because it is. Laurie and Jonathan Porter began brewing at home 20 years ago, shortly after they moved to California. In October 2011, they opened Smog City Brewing inside Tustin Brewing Co. brewpub. By utilizing TBC's excess fermentation capacity, they were able to brew well-crafted beers, and personally distribute to restaurants and bars throughout Los Angeles County, before eventually opening their spot in Torrance. A collaboration with Moonlight Meadery, this award-winning, bourbon barrel-aged imperial honey stout is brewed with more than 600 pounds of rare Meadowfoam buckwheat honey for toasted marshmallow, oak, vanilla, and chocolate flavors are all crammed into this complex beer.
Hair of the Dog Cherry Adam From the Wood 2022
13.5% ABV
Inspired by the historical style Adambier from Germany, Hair of the Dog Adam is a strong, dark smoky ale aged for an extended time in barrels for deeply bready malt flavors layered with roast, smoke, and leather. It's astonishingly complex and punishingly strong at 10-percent alcohol. Cherry Adam from the Wood is aged with locally grown black cherries in bourbon and sherry casks for 15 months. It hits the nose with dark fruit, oak, and vanilla smells. The taste has a ton going on: vanilla, oak, deep malts, pitted fruits, figs, and bourbon-coated cherries.
LINK: Peaks & Pints cooler inventory
---