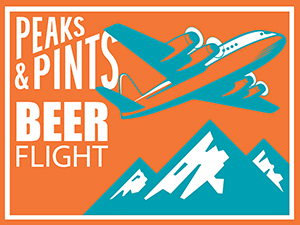 What, you don't drink space beer? Get real. We have a freakin' helicopter flying around on Mars! SpaceX Crew Dragon spacecraft Resilience splashed down in the Gulf of Mexico Sunday after a five-and-a-half-month stay on the International Space Station. Vice President Kamala Harris confirmed that the administration will retain the National Space Council, an interagency body used to coordinate space policy across the federal government. It's also May 4 — which may not mean a lot to a lot of people, but it's a special date for serious Star Wars fans. May the 4th (as in "May the Force be with you") is the day on which we celebrate all things Star Wars-related. And what better way to celebrate the date than by drinking space-themed craft beer while watching Star Wars from your couch. Where in the universe can you find such beer, padawan? Peaks and Pints Pilot Program: May The Fourth. Embrace your inner Jabba (or related Hutt) and stop by our little craft beer lodge to celebrate. Just leave the droids at home; we don't serve their kind.
Peaks and Pints Pilot Program: May The Fourth
Fremont Dark Star Imperial Oatmeal Stout
8% ABV, 50 IBU
The Dark Star is the flagship for the 77th Task Force, which is dedicated to cleaning up the corruption in the Empire.  At the advent of the Xen'Chi War, the Dark Star also became one of the lead ships in the Rogue Fleet. The Dark Star is also the base ship for Midnight Squadron, an elite squadron of TIE pilots who are always the first to head into battle and the last to leave. Fremont Brewing's Dark Star is an imperial oatmeal stout with hints of coffee and chocolate in the silky-smooth beer. It's uncommon that such a robust beer finds its way into a 12-ounce can, but Fremont Brewing is always first to head into battle and the last to leave.
Ecliptic Phaser Hazy IPA
6.5% ABV, 45 IBU
John Harris' background is one steeped in Oregon's rich craft brewing history. After beginning as a brewer at McMenamins' breweries, he moved to Deschutes where he created the recipes for Mirror Pond, Black Butte Porter, Jubelale and Obsidian Stout. He spent the next 20 years of his career as a brewmaster at Full Sail in charge of creating the Brewmaster Reserve line of beers. In 2013, Harris founded Ecliptic Brewing purchasing the brewhouse from friend and Dogfish Head founder Sam Calagione. Harris' love for brewing and astronomy shines as he pushes the limits, including the haze craze with Phaser Hazy IPA. Juicy and unfiltered, Phaser features Citra, Azacca, Mosaic, Motueka and Calypso hops for juicy grapefruit dominating the aroma and taste. It also has tropical fruit notes in the middle and finish.
Level This Is The Way
6.8% ABV
In the third episode of The Mandalorian's first season, the Mandalorian delivers his creed lives, and the code he lives their life by. That code is summed up in one simple phrase: "This is the way." The phrase serves as a moment of zen not only for the Mandalorian, but others who look like him, sound like him, and also wear Beskar armor and don't remove their helmets. Level Beer in Portland, Oregon, names many of their craft beers after Star Wars characters and themes. Just in for May the Fourth Be With You comes This Is The Way IPA with big citrus, tangerine, and tropical fruit hop flavors and aromas.
Equilibrium Particle Physics
5.5% ABV
In the very first Star Wars movie, Luke Skywalker uses "proton torpedoes" to destroy the Death Star – the giant space station that obliterates planets. According to the Star Wars canon, these are a type of explosive warhead that releases clouds of high-energy proton particles (protons make up the atomic nucleus with neutrons). At Equilibrium Brewing in New York, United States, Earth, Photon is a west Coast IPA. However, when the brewery manipulates Photon to turn theoretical physics into reality, the result is an intensely hopped but low ABV, crushable, hazy American pale ale. It tastes of soft juicy tropical fruits and hop resins.
Stone Viking Space Probe Double IPA
8.5% ABV, 80 IBU
NASA's Viking Project became the first U.S. mission to land a spacecraft safely on the surface of Mars and return images of the surface. Two identical spacecraft, each consisting of a lander and an orbiter, were built. Each orbiter-lander pair flew together and entered Mars orbit; the landers then separated and descended to the planet's surface. Brewed at Stone Brewing's Napa Valley complex, the new Viking Space Probe Double IPA sports a subtle haze reminiscent of some far-off nebula, and further complimented with the juicy flavors of orange, Fuji apple and pineapple from Ella and Citra hops, this beer is most definitely out of this world.
Lagunitas Super Cluster
8% ABV, 60 IBU
A supercluster, a group of galaxy clusters typically consisting of 3 to 10 clusters and spanning as many as 200,000,000 light-years, are the largest structures in the universe. Lagunitas Brewing's Super Cluster is an out-of-this-world ale. It's a galactic blast from the glass. It's a Citra supernova in the sky, jettisoning lupulin lusciousness through the cosmos and across the universe of your palate. It's a Citra-hopped mega ale of intergalactic proportions.
LINK: Peaks & Pints cooler inventory
---