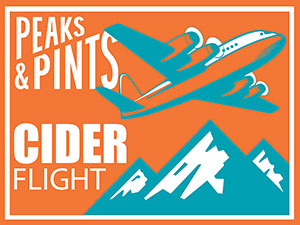 Every McIntosh apple is a graft of the original tree that John McIntosh discovered on his Ontario farm in 1811, or a graft of a graft. McIntosh, the man, noticed a young apple tree growing on his property near the U.S. border. Delighted by the delicious fruit produced by the tree, he sold seeds to his neighbors hoping to popularize the new type of apple. It took him years to realize that apples do not grow true to seed and that varietal propagation could only be achieved through grafting. Today, the McIntosh is commonly grown in New York, Canada, New England, and Michigan. The aromatic McIntosh with its distinct white flesh and vinous flavor is coveted for fresh eating and cider production. Today, Peaks & Pints presents a to-go flight of cider made with McIntosh apples — a flight we call Peaks and Pints Monday Cider Flight: McIntosh. And, yes, Apple Inc.'s Macintosh computer is named after this well-loved apple.
Peaks and Pints Monday Cider Flight: McIntosh
Liberty McIntosh
5.7% ABV
While not a major crop of Washington state, McIntosh apples adapt beautifully to the Inland Northwest — specifically, the Palouse region just south of Spokane, where Liberty Ciderworks grabs them for their McIntosh cider. This off-dry cider showcases classic Mac qualities, with aromatics and flavors reminiscent of ripe apples, cream, and honey. It's also a 2021 Good Food Awards Winner.
Whitewood McIntosh Heirloom
6.2% ABV
David White started his production-only Olympia cidery in 2011 with business partner Heather Wingwood, with their first cider release in 2012. In May 2013, Whitewood Cider Company opened for business in Olympia, the only craft cidery between Seattle and Portland. The McIntosh apple was developed in Ontario, Canada in 1798. The McIntosh has a distinct perfume-like aroma. The flesh is firm, juicy, and white. It is an all-purpose apple great for eating fresh, cooking or an imperial cider with a champagne-like nose and sweet, bubbly apple taste.
LINK: Peaks & Pints cooler inventory
---