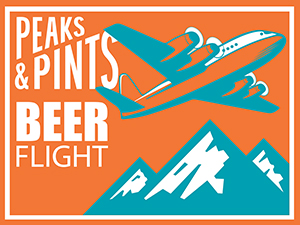 Today is May 4 — which may not mean a lot to a lot of people, but it's a special date for serious Star Wars fans. May the 4th (as in "May the Force be with you") is the day on which we celebrate all things Star Wars-related. And what better way to celebrate the date than by drinking space-themed craft beer while watching Star Wars from your couch. Where in the universe can you find such beer, padawan? Peaks and Pints: The Cooler Awakens. Embrace your inner Jabba (or related Hutt) and stop by our little craft beer lodge for our space-themed, to-go beer flight — Peaks and Pints Pilot Program: May The 4th Be With You — and put space in your face.
Peaks and Pints Pilot Program: May The 4th Be With You
Anchorage Interstellar Void
7% ABV
Space is an empty void. But one part is even emptier and more void-ish than the rest. Just southwest of Orion in the constellation Eridanus, astronomers have discovered a swath of space, one billion light years across, that isn't merely devoid of stars and planets and space dust, but dark matter, too. Anchorage Brewing's Interstellar Void is a fruited sour fermented and aged in Missouri oak with saison yeast, Brettanomyces and house mixed culture, dry hopped with Galaxy and Phantasm powder, and finished with passionfruit for an initial barn floor funk that turns into tart passionfruit and grassy citrus.
Block 15 Nebula
6% ABV
A nebula is an enormous cloud of dust and gas occupying the space between stars and acting as a nursery for new stars. The roots of the word come from Latin nebula, which means a "mist, vapor, fog, smoke, exhalation." Nebulae are made up of dust, basic elements such as hydrogen and other ionized gases. Block 15 Brewing's Nebula is a stout brewed with rolled oats and European pale, caramel, chocolate, and brown malts, and then gently hopped with English Fuggle. Nebula hints at coffee, dark chocolate, and caramel, finishing velvety smooth.
Reuben's Stouter Limits
12.5% ABV, 50 IBU
"There is nothing wrong with your television set." That famous line opens each episode of the classic science fiction anthology series The Outer Limits. There also is nothing wrong with Reuben's Brews latest 10th Anniversary Beer Series, Stouter Limits. This Homebrewers Guild of Seattle Proper collaboration is a massive imperial stout that hits the nose with dark chocolate cherries, roast coffee, and licorice followed by notes of smoky pepper, light toffee, and caramel chase bigger flavors of sweet and spicy chocolate.
Ecliptic Flamingo Planet
5.5% ABV, 25 IBU
In 2013, famed brewer John Harris founded Ecliptic Brewing purchasing the brewhouse from friend and Dogfish Head founder Sam Calagione. Harris' love for brewing and astronomy shines as he pushes the limits of creativity rotating Ecliptic's offerings every six weeks in accordance with the Old World calendar, producing seasonal favorites. Flamingo Planet is an easy drinking blonde ale brewed with guava. 100 percent pale malt provides a light body and golden color. Lightly hopped with Amarillo and Crystal, this juicy beer is sure to blast you away to a tropical planet paradise.
Level Who's Scruffy Looking
6.7% ABV
"Who's scruffy looking?" quote comes from Episode V of the Star Wars films, The Empire Strikes Back. The quote comes early in the film, just after Han Solo (played by Harrison Ford) rescues Luke Skywalker (played by Mark Hamill) on the icy (and ironically named) planet Hoth. Han Solo then makes a snarky comment to Princess Leia, making it seem like she made the order to ground all flights from leaving the planet to keep him in the base. The confrontation escalates and Leia insults Han by calling him a "half-witted, scruffy looking nerf herder." Strangely, Han doesn't have any issues with being called a half-wit or a nerf herder. Level Beer's Who's Scruffy Looking? is a hazy IPA of galactic proportions, brimming with tropical and juicy notes, and clocks in at a smooth 6.7% — just enough fuel for the Kessel run.
Ninkasi Eclipsosaurus Hazy IPA
7.2% ABV
In the deserts of the southern hemisphere, a mysterious deity lingers. You may not always be able to see Eclipsosaurus, but a massive wingspan beats powerfully, whirling notes of fresh citrus and melon through the air. Legends of Eclipsosaurus' mythical power tell of an ability to move the moon, sun, and stars from the sky itself. Will these celestial wonders continue to shine over all the land? Only Ninkasi Brewing knows.
LINK: Peaks & Pints cooler inventory
---