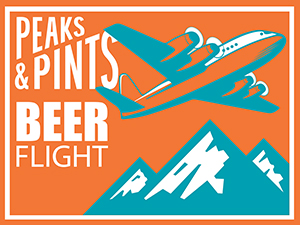 For the last 180-plus years, Pilsner Urquell is open fermented, conditioned in oak barrels, and served without filtering. Inspired by this Old-World original, a growing number American brewers are skipping stainless steel, tight environmental controls, and automated brewing systems and brewing their lagers like the Old-World original: aging their bottom-fermenting creations in wood vessels. What starts as a refreshing, classic lager transforms when aged in oak barrels. Barrel aging adds woody notes of oak and vanilla to the beer's crisp, golden base. Today, Peaks & Pints craft beer bar, bottle shop and restaurant in Tacoma's Proctor District presents a to-go flight of lagers aged on wood — a flight we're calling Peaks and Pints Pilot Program: Barrel-Aged Lagers On The Fly.
Peaks and Pints Pilot Program: Barrel-Aged Lagers On The Fly
Urban Family Foeder Pilz
4.3% ABV
Urban Family Brewing's new pilsner is an oak fermented lager dry-hopped with Wakatu and Moutere from New Zealand and fermented with L17 from Imperial Yeast. After an initial fermentation in their oak foeder, they transferred to a stainless-steel tank to lager for an additional 6 weeks. The result is a crispy and limey pilsner.
Triceratops Little Critics Sour Pennsyltucky on Cherries
4.8% ABV
Triceratops Brewing joins the rest of the American brewers rewriting the rules on sour beers. They use traditional sour styles as a jumping off point to experiment with techniques such as hops additions for bittering and aroma, racking sour beers into freshly used wine or spirit barrels, blending batches, adding adjuncts, or, in the case of Triceratops, sour a lager on cherries then barrel age it. Little Critics is soured with Triceratops' house culture and conditioned on 30 pounds of Washington-grown cherries for a pleasing tartness, a restrained level of acidity, and an approachable 4.8 percent. Extended aging in Heaven Hill whiskey barrels further enhances the beer's complexity.
Threshold Barrel Aged Neptune
7% ABV
"The magnitude or intensity that must be exceeded for a certain reaction, phenomenon, result, or condition to occur or be manifested" is the definition of "threshold" in most dictionaries. Threshold is also the passion project for Portland, Oregon, couple Jarek and Sara Szymanski who opened Threshold Brewing & Blending the beer-centric neighborhood of Montavilla two years ago. Threshold grabbed their award-winning Baltic porter and aged in 12 months in whiskey barrels for subtle oak and booze with nuttiness and cocoa leading the way.
Rogue Dead 'N' Dead
7.9% ABV
Rogue Ales brewers, distillers and coopers placed their Dead Guy Ale Maibock in barrels which had previously held Dead Guy Whiskey. The beer is then aged for six months, allowing it to soak up flavors and personality from the whiskey barrels. Dead 'N' Dead features a strong whiskey nose and added notes of oak and vanilla, with a smooth caramel flavor from the whiskey barrels that balances out Dead Guy Ale's malty, honey sweetness.
GoodLife Brett Lager
8.5% ABV
GoodLife Brewing and The Ale Apothecary put their brewing minds together — probably at The Sparrow Bakery in between their Bend, Oregon brewhouses — and designed Brett Lager to take elements from both breweries to create something new and unique. First, they brewed a Dortmunder style lager at GoodLife's production facility. After 2 months of cold-conditioning, they transferred the beer into Sokol Blosser Pinot Noir barrels and allowed the beer to warm up to ale temperatures, then added The Ale Apothecary's wild house yeast culture to further evolve the beer during the 18-month barrel aging process. The result is truly magical, with intense aromas of tropical and stone fruits followed by flavors of fresh cut hay, funky barnyard notes and figs reminiscent of Belgian lambic while the initial lager characteristics of Mecca Grade Estate Malt and yeast are still evident and intertwined!
LINK: Peaks & Pints cooler inventory
---