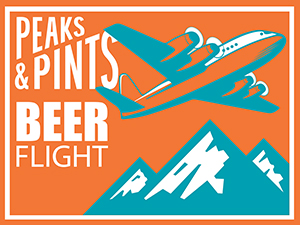 Blueberries. Who doesn't love them? When we can keep the birds from eating the fruit, blueberries are one of the most rewarding edibles in the garden. They don't take up a huge amount of space, and they are easy to grow in our area, given sun, acid soil, and plenty of water. And the plants are beautiful. To top it off, raw blueberries are among the most nutrient-rich plant foods available — low in calories and loaded with plant nutrients such as soluble fiber, minerals, vitamins, and antioxidants. Most importantly, crisp, sweet blueberries balanced with tangy cider apples makes for a thirst-quenching beverage. Every Monday, Peaks & Pints presents a to-go cider flight. Can you guess what flavor it will be today? Stop by today and grab Peaks and Pints Monday Cider Flight: Blueberries.
Peaks and Pints Monday Cider Flight: Blueberry
Garden Path The Local Harvest Blueberry Cider
6% ABV
Garden Path Fermentation's owners Amber Watts and Ron Extract come from the famous Jester King Brewery in Texas — and the ciders, meads, and beers they've been producing since opening in 2018 have not been a disappointment. They incorporate only ingredients they can get locally, whether it's the native yeast, the Skagit malt, the hops they can find locally. This cider is made from locally harvested cider apples, fermented with native yeast, refermented on blueberries, and conditioned with honey.
Avid Blueberry Pomegranate
6.2% ABV
In 2013, Avid Cider Co. invaded the Bend, Oregon craft beer-crazed town with something different. Back then, they went by ATLAS and quickly gained recognition locally and regionally depicted by their major award display case. AVID became known as a semi-sweet cider company placing their craft between the dry and sweet market. They live and die by their "NW to the Core" slogan sourcing regional fruit pressed in Bend to create "core" ciders and seasonally inspired hits. Their Blueberry Pomegranate cider combines the two flavors for a balanced, not too sweet, delicious flavor.
Portland Blueberry Bourbon Basil
6.7% ABV
In the fall of 2012, Jeff and Lynda Parrish opened Portland Cider in a cramped 1,500 square foot space in Oregon City. In 2015, they opened Portland Cider House in Portland's Hawthorne neighborhood, offering 24 taps pouring a full range of Portland Cider's apple and fruit ciders alongside a range of guest ciders. They continued to grow rapidly. In April 2016, they moved production to a significantly larger space in a Clackamas light-industrial business park. This Portland Cider creation is inspired by Blue Star Donuts' sweet and colorful Blueberry Bourbon Basil donut, one of the company's most popular products, which combines fresh sweet blueberries, fragrant basil, and a good local bourbon added for a hint of caramel depth. Like the donut, Portland Cider Co.'s Blueberry Bourbon Basil features a blend of bright blueberries, fresh herbal basil and deep rich bourbon notes from oak aging.
Cockrell Elwood Bluesberry
6.9% ABV
Brothers Richard and John Cockrell have been making cider and beer in their Puyallup homes for more than 25 years, sharing their craft with family and friends, as well as grabbing many local, state, and national awards and accolades. As the brothers began planning for their retirement their fans begged them to go pro. Their hobby became Cockrell Hard Cider. A nod to the Blues Brothers, Cockrell's Elwood Bluesberry cider has a hint of blueberry — it's not a Jolly Rancher.
LINK: Peaks & Pints cooler inventory
---