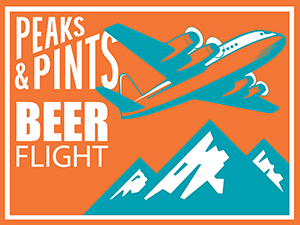 The Hawaiian Islands are known for several beverages: Kona coffee, mai tais, Blue Hawaiians, and pineapple juice come instantly to mind, but the Aloha State also produces delicious craft beer two blocks from the ocean in Kihei, Maui. What began in 2005 as a tiny local brewpub has grown into Maui Brewing's multi-million-dollar facility that serves its craft beer in Lahaina (Maui), Kailua (Oahu), and Waikiki (Oahu), and well beyond the Hawaiian Islands. In April 2022, less than two months after announcing the closure of half its locations, including Portland, Oregon, San Diego-based Modern Times Beer announced the company's lender had commenced litigation that would inevitably lead to a court-ordered sale of the craft brewery. Long story short, Maui Brewing acquired Modern Times for $15.3 million, twice as much as their initial bid of $7.62 million. Longer story shorter, Maui Brewing has brought Modern Times back to Washington state and Peaks & Pints in Tacoma. Tonight, Peaks & Pints hosts Modern Times and Maui Brewing for a lodge meeting with draft from both breweries and a to-go flight of Maui beer that we're calling Peaks and Pints Pilot Program: Maui Brewing Flight.
Peaks and Pints Pilot Program: Maui Brewing Flight
Maui Peach Cobbler Sour
4.4% ABV
Collaboration with Dogfish Head Craft Brewed Ales, this fruited kettle sour is brewed with vanilla, cinnamon, and peaches for aromas of peaches and pie crust complimenting this sweet and tart beer.
Maui Pineapple Mana Wheat
5.5% ABV
Looking for a German-style wheat beer with a delirious touch of tiki? Grab Maui Brewing's Pineapple Mana Wheat. The Hawaiian brewery has, obviously, thrown in Maui Gold Pineapple into its wheat beer. Aloha! At first all you're likely to detect in the nose is a nice bright hefeweizen aroma of bananas and clove. Ultra-ripe pineapple flavor shows up subtly in the medium-length finish (along with a mild hop note), then gradually becomes more noticeable, though never heavy-handed. This craft beer literally brings the islands of Hawaii to you!
Maui Coconut Hiwa
6% ABV
Brewed with hand-toasted coconut and six varieties of malted barley, Maui Brewing's Coconut Hiwa is a very dark, almost impenetrable, black coffee colored porter. The aroma recalls baked coconut macaroons or, on the other end of the spectrum, coconut suntan lotion. The coconut flavor is present, but not overwhelming in the mouth, along with other roasted earthy lactose flavors.
Maui Imperial Coconut Porter
9% ABV
The 2016 Great American Beer Festival Gold Medal Field Beer champion, Imperial Coconut Porter, is a deeper, more intense version of Maui Brewing's flagship Coconut Hiwa Porter. The rich, slightly sweet, and malty ale utilizes seven different malts, including black and chocolate, as well as raw and toasted coconut. It pours with a dark tan head and drinks with a silky smooth, yet warming finish, plus subtle notes of cacao and coffee.
Maui Grandma's Coffee Cake Imperial Porter
9% ABV
Maui grabbed their Imperial Coconut Porter recipe, ditched the coconut, and gave Grandma a call. Brewed with Maui-roasted Origin Coffee, cinnamon, brown sugar, lactose, and Grandma's Coffee House Coffee Cake, it's not a shocker that strong dark roast coffee hit the nose first, followed by cinnamon, milk chocolate, vanilla, and a hint of caramel.  The strong dark roast coffee also rules the flavor, plus cinnamon, milk chocolate, vanilla, wood char, brown sugar, and some nutty malt notes.
Maui Big Swell
6.8% ABV
Maui's Big Swell IPA is brewed with Cascade, Chinook, Mosaic, Citra, and Simcoe that hits the nose with grapefruit, orange, and pineapple — plus sweet, caramel malts and grains too. On the tongue, expect big burst of tropical and piney hop notes.
LINK: Peaks & Pints cooler inventory
---