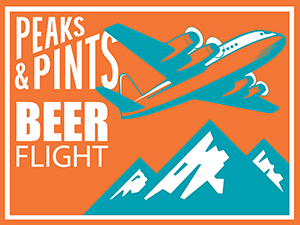 It's February in the South Sound so it's not entirely unexpected that there is snow on the ground. Apparently, there is more snow on the way. Just how much snow we're going to get, though, is a matter that always seems to be up for debate with local meteorologists. As of right now, the National Weather Service is saying that the Tacoma area should expect a mostly cloudy day with a high of 36 today with cold temperatures through Friday and a chance of snow (and rain) Saturday night through Wednesday. Either way, there's a high chance folks will be spent hunkered down, watching TV, and digging forgotten food out from the back of the cabinet. To help with the cabin fever, Peaks & Pints suggests you stock up on stouts. After all, it's Stoutuary at Peaks & Pints through February. Brave the cold and head to Tacoma's proctor District for Peaks and Pints Pilot Program: Cold Weather Stout Flight.
Peaks and Pints Pilot Program: Cold Weather Stout Flight
Wet Coast Dry Stout
4.5% ABV
West Pierce Fire and Rescue firefighters Bryan Copeland and Aaron Johnson are the brewers and co-owners behind Wet Coast Brewing, along with their wives Molly Copeland and April Johnson. They started planning their brewery for years but didn't get serious until 2012. They opened in Gig Harbor in 2015 on a 3.5-barrel brewing system, which has since been replaced by a much larger system. Their recently released Dry Stout features pale chocolate malt and roasted barley, gently hopped with Willamette, which lends to notes of roasted coffee and sublet hints of caramel and chocolate with soft and silky mouthfeel that finishes clean on the palate.
Lumberbeard Muffintop Breakfast
7% ABV
A breakfast stout is brewed with maple and coffee and sometimes other adjuncts to create something uniquely breakfast-y. A collaboration with Urban Family Brewing, Lumberbeard Brewing's break stout, Muffintop Breakfast, is brewed with blueberry, vanilla, lactose, maple syrup and dosed with Spokane roasted coffee beans from Indaba Coffee. Expect big coffee flavor and blueberry notes a hint of syrup on the back end.
BreakThru Vanilla Affogato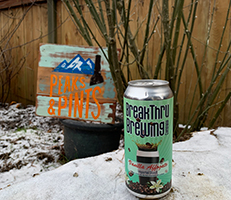 8.3% ABV
After five years professionally brewing, Alex Ellig opened BreakThru Brewing in December 2020 in Kent, Washington. Homebrewer Ellig began his professional career at Rock Bottom Brewery and Restaurant in La Jolia, California. Rock Bottom's head brewer agreed to drink Ellig's homebrew and give feedback. Five breweries later, including Two Beers Brewing in Seattle's Georgetown neighborhood, and time in every position possible at a brewery, Ellig grabbed the finest ingredients, new advancements in hop production technology, proprietary yeast blends and a temporary home at Airways Brewing. Built on a base of maris otter, backed by seven specialty malts, then conditioned on Comoros vanilla beans and locally roasted cold brew coffee, Ellig's Vanilla Affogato imperial stout has notes of sticky caramel, vanilla marshmallow, espresso, and sweet bourbon.
Front Porch Cosmic Brownie Bday Stout
11% ABV
In December 2017, James Flynn, Drew Peccerillo, Ryan Voytek and Tiffany Ulrich opened Front Porch Brewing in Wallingford, Connecticut. Flynn, who began homebrewing in 2011, brewed Cosmic Brownie Bday Stout imperial pastry stout for the brewery's 5th anniversary. Inspired by brownies, this stout is brewed with cacao nibs, vanilla, brownie, and fudge.
Firestone Walker Parabola (2023)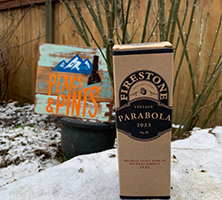 13.5% ABV
It's a little early for our Fancy Pants Sunday column where we champion high ABV, complex and delicious craft beers, but Firestone Walker's Parabola is, indeed, fancy. It's a beer of darkness and immensity, a barrel-­aged beast that is routinely ranked as one of the top beers in the world.  This Russian imperial oatmeal stout is aged for a year in an equal combination of 8-year-old Blanton's bourbon and 12-year-old Weller wheated whiskey barrels. Intense flavors of black cherry, dark chocolate, vanilla, and roast coffee are accentuated with fine notes of cereal grain from wheated whiskey barrels, while the bourbon barrels impart their classic notes of toasted coconut and cocoa nibs.
LINK: Peaks & Pints cooler inventory
---