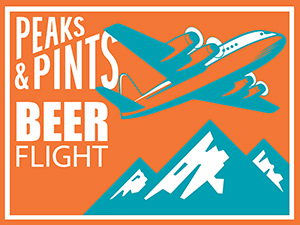 In December 2021, after 300 batches of homebrew, and countless building egress drawings, Nick Ladd and Jessie Quan, husband and wife, opened Ladd & Lass Brewing in Seattle's U-District. Housed in the former Floating Bridge Brewery spot on 45th Street near Interstate 5, which was also the former Rainbow Tavern where the Ramones and Soundgarden rocked the kids, the former architects opened with a pile of beer recipes and design chops. With T-shirts, albums, and newspaper articles from the glory days of Rainbow Tavern donning the walls, Ladd & Lass brew the full spectrum of beer styles — from lagers to hoppy libations to mixed-fermentation beers and everything in between. Today, Peaks & Pints presents a min to-go flight of Ladd & Lass beers — a flight we call Peaks and Pints Pilot Program: Ladd & Lass Brewing Flight.
Peaks and Pints Pilot Program: Ladd & Lass Brewing Flight
Ladd & Lass The Pale Project
6.1% ABV
A collaboration between Ladd & Lass' three homebrew-loving friends — Shawn Miller, Tony Ochsner (co-owner of Micro Homebrew, 2021 Homebrew Shop of the Year), and L&L brewer Nick Ladd. All three cut their craft teeth on early 2000s pale ale, but also appreciate today's more hop-forward versions. This is an ongoing project that seeks to find the happy balance between traditional and contemporary takes on pale ale. The Pale Project is brewed in honor of Miller, L&L's biggest supporter and loudest advocate, who lost his battle with cancer. A portion of proceeds from sales of this beer will be donated to the Cascadia College Foundation to help fund the Shawn Miller Memorial Scholarship for First Generation Students.
Ladd & Lass Deprived of Light
12% ABV
The Russian Imperial Stout originated in England as an export to the Baltic states and Russia and takes its name from its popularity with the Romanov Imperial Court. Russian Imperial Stouts are richer and bolder in maltiness than the more common stout with varying amounts of roastedness and sweetness. Ladd & Lass' version is confectionized with flavors of cacao, coconut, and vanilla while still managing to finish short of typical pastry stout cloyingness.
Ladd & Lass Year One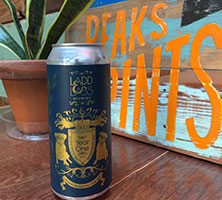 12.5% ABV
Ladd & Lass marked their first year as a commercial brewery with Year One English-style barleywine. This massive beer is packed with aromas of bready malt, toasty biscuit, and rich caramel and toffee, followed by sweet malt and caramel with a more dry and bitter finish.
LINK: Peaks & Pints cooler inventory
---