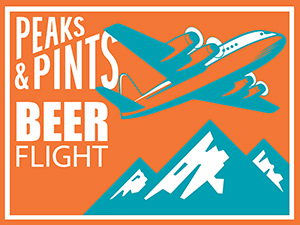 Whether you're a skim, two percent, or whole milk drinker, Jan. 11 is a day to celebrate anything and everything milk. It's National Milk Day and, of course, Peaks and Pints celebrates with a flight of milk stouts — a flight we call Peaks and Pints Pilot Program: National Milk Day Flight.
Milk stouts originated in Europe in the 1800s. The style emphasizes a malty sweetness with hints of chocolate and caramel. They are sometimes called cream stouts or sweet stouts. Brewers intensified the dark, chocolaty malt body with lactose, the sugar in cow's milk, hence why they're more often called milk stouts. Brewer's yeast can't ferment lactose into alcohol, so it hangs around to give you a rich mouthfeel and a soft, creamy sweetness, balancing out the bitter and roasted qualities typical of its cousin stouts. It makes sense. Heating milk to very high temperatures, which also has the effect of caramelizing some of the milk's sugar, makes evaporated milk. That sugar is the same lactose found in milk stout and is subjected to similarly high temperatures during the brewing process. We also detected an interesting tang, and we can't help but wonder if this is attributable to the lactose as well, as lactose will ferment into lactic acid in the right conditions. Whatever. Done right, you can be extraordinary, like the five milk stouts in today's beer.
Peaks and Pints Pilot Program: National Milk Day Flight
Left Hand Brewing Nitro Milk Stout
6% ABV, 25 IBU
Without going into the chemical physics of solubility and gas diffusion, let's just say that nitrogen has a silky effect on beer. Nitrogenized brews, as opposed to carbonated ones, have a softer mouthfeel, taste less acidic and boast a creamier, more stable head. Left Hand Brewing's Milk Stout was no bore before, and on nitro, it's even better. Cocoa and burnt flavors from its dark roasted grains come forward first, followed by a wave of sweet cream thanks to the use of lactose sugar. Magnum hops help give the 6 percent-alcohol brew a bitter finish that entices the next sip. Throughout, the beer's ultra-smooth texture inches it closer to chocolate milk than you thought a beer could get.
WeldWerks Starry Night
6.5% ABV
Milk stout brewed with milk sugar, hazelnut, toasted coconut, and milk chocolate, WeldWerks Brewing's Starry Night paints the inside of your nose with hazelnut, pecan nuts and caramel. With low bitterness and subtle sweetness, the flavor profile mirrors the aroma with the prominent hazelnuts, supportive yet distinct flavors of caramel, and pecan nuts. Expect an oily, dark chocolate aftertaste.
Threshold BA Jack Knife
6.7% ABV
Collaboration with Montavilla's Sebastiano's Sicilian Deli, Threshold Brewing's Jack Knife milk stout is brewed with a bit of lactose then aged 9 months in Westward Whiskey barrels for whiskey and oak notes on the first sip with a boozy but mellow dark chocolatey finish.
Pelican The Brewed Abides
7% ABV, 25 IBU
Pelican Brewing's The Brewed Abides takes its inspiration from the classic White Russian cocktail, as well as The Dude imbibing it in the movie that made it famous, The Big Lebowski. This milk stout is brewed with Costa Rican coffee beans, cacao nibs, vanilla beans, pure coastal water, and pure ale yeast abiding in harmony to create intense, rich flavors with hints of coffee, caramel maltiness and a velvety mouthfeel. 
Alesong Señor Rhino Suit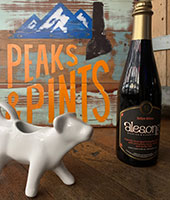 11% ABV
Down south over yonder hills, just outside Eugene, Oregon, Alesong Brewing & Blending focuses almost exclusively on small batches of oak-aged and Belgian-inspired brews since it first began producing beer in early 2016. Alesong has stood out among the crowd with its blending and barrel-aging techniques. The brewery's imperial milk stout is aged for 6 months in freshly dumped Heaven Hill Bourbon barrels, layering on flavors of vanilla and a hint of cinnamon and a slight warmth from the alcohol. Then, Alesong adds ancho chiles from their local Latino market, as well as Cassia cinnamon and Tahitian vanilla beans from Mountain Rose herbs, and Vietnamese cocoa nibs from Chocolate Alchemy in Eugene. Expect cinnamon, vanilla, and cocoa on the nose, followed by some heat and rich chocolate flavors intertwined with hints of cinnamon and vanilla.
LINK: Peaks & Pints cooler inventory
---